Apple will celebrate Black Friday with discounts and giveaways at its retail locations and online at Apple.com. Apple hasn't announced their Black Friday specials yet, but don't expect half-priced iPods or MacBooks.
Apple's Black Friday discounts were decent, but nothing like what you find on PC notebooks. Last year the best deals were on accessories. Several headphines, cases and speakers were discounted between 25% and 40%. iMacs and MacBooks were discounted by $100. It's unlikely Apple will discount the MacBook or MacBook Pro by more than $100. Apple will be posting its Black Friday iPod deals,
MacBook and MacBook Pro deals at the Apple Store online.
If you want to get the best deals on MacBooks and MacBook Pros you should seriously consider buying a refurbished model from Apple's clearance store. They do a complete overhaul on any returned merchandise and sell it in like-new condition with a full 1-year warranty. The clearance store has the current MacBook Pro for 1,699, a $300 discount.
MacMall has ongoing promotions that will save up to $100 on current MacBooks and MacBook Pros.
The best Black Friday deal we've found so far is on an iMac at Fry's for $794. Unfortunately there's no similar deal on the MacBook or MacBook Pro at Fry's or anywhere else we can find.
I'm 99% sure that Apple will not discount the iPhone or iPod touch, but they will have discounts on accessories for both. The deepest discounts will be on non-apple branded gear.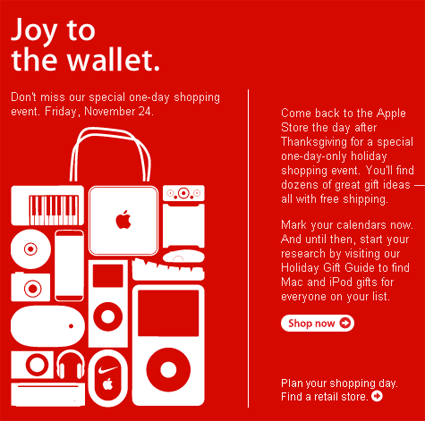 Advertisement