Amazon announced the Beta release of Amazon MP3
, a new music download service that features DRM-free tracks and albums. The service can save music fans some money and offers flexibility not found many popular music services.
Digital Rights Management (DRM) is extremely frustrating to many users, especially if they have several devices. Households with several computers and digital audio players will have to purchase their favorite tracks multiple times or spend time finding workarounds. Many music services restrict what devices can play their tracks.
Amazon MP3 gets rid of all of these roadblocks with their DRM-free music library.
Amazon MP3
songs are cheaper than the iTunes Storeâ€â"¢s DRM-free songs. Amazon MP3 songs are either 89 cents or 99 cents, while most albums are between $5.99 and $9.99. iTunes Storeâ€â"¢s DRM-free tracks are $1.29 per song and albums are $12.99.
All of the songs are encoded as mp3 at 256 kilobets per second, which is good enough for most users, but definitely not up to audiophile standards.
I frequently shop at Amazon and visited Amazon MP3 to check out the new service and see how it compares to the iTunes Store. The Amazon MP3 shop is easy to navigate, with the expected top songs and album lists. Visitors can browse by genre, album price and other attributes.
Amazon MP3 has more than two million songs available for download, but is far from comprehensive. Amazon MP3 has struck deals with select record labels, but not with others. Notable artists, such as U2 and Mariah Carey, are missing. A search for â€ËÅU2â€â"¢ brought back an option to purchase CDs by U2 and a list of 281 Karaoke and cover tracks by tribute bands. Most buyers will be wise enough to steer clear of these tracks, but some will surely be duped into paying $.99 for a song by some no-name band.
I clicked on the â€ËÅ$4.99 and Underâ€â"¢ category and spotted a Miles Davis album Iâ€â"¢d bought and lost several years ago. I clicked on the buy button, agreed to the terms of use and confirmed my purchase. I have Amazon 1-click shopping enabled so I didnâ€â"¢t have to enter my credit card info.
I then had to download and install Amazonâ€â"¢s MP3 Downloader, which is required for album purchases. Once my transaction was complete I downloaded a small file called âہ"Round Midnight.amz,â€Â which enabled MP3 Downloader to download the songs from the album. The songs downloaded at about 800KB/sec.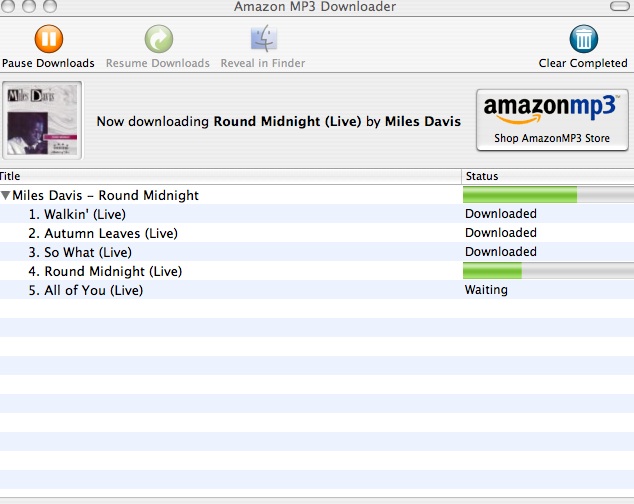 As soon as each song was downloaded it was automatically added to iTunes (PC users can chose between Windows Media and iTunes). This option can be disabled in preferences.
The entire process was simple enough and never having to worry about DRM is great, but Amazon MP3 is in beta and needs to be improved if itâ€â"¢s going to succeed against iTunes.
For me, DRM and price arenâ€â"¢t everything. The iTunes Store does a much better job and presenting information, products and access to additional content from artists such as music videos and podcasts. Those used to iTuneâ€â"¢s rich graphics will find it boring to sort through songs on Amazon MP3. Amazon should really consider integrating video content into this service. More and more devices, such as the latest iPods and iPhone, are geared toward video content.
Here are screenshots of how iTunes Store (top) and Amazon MP3 (bottom) present Kanye West.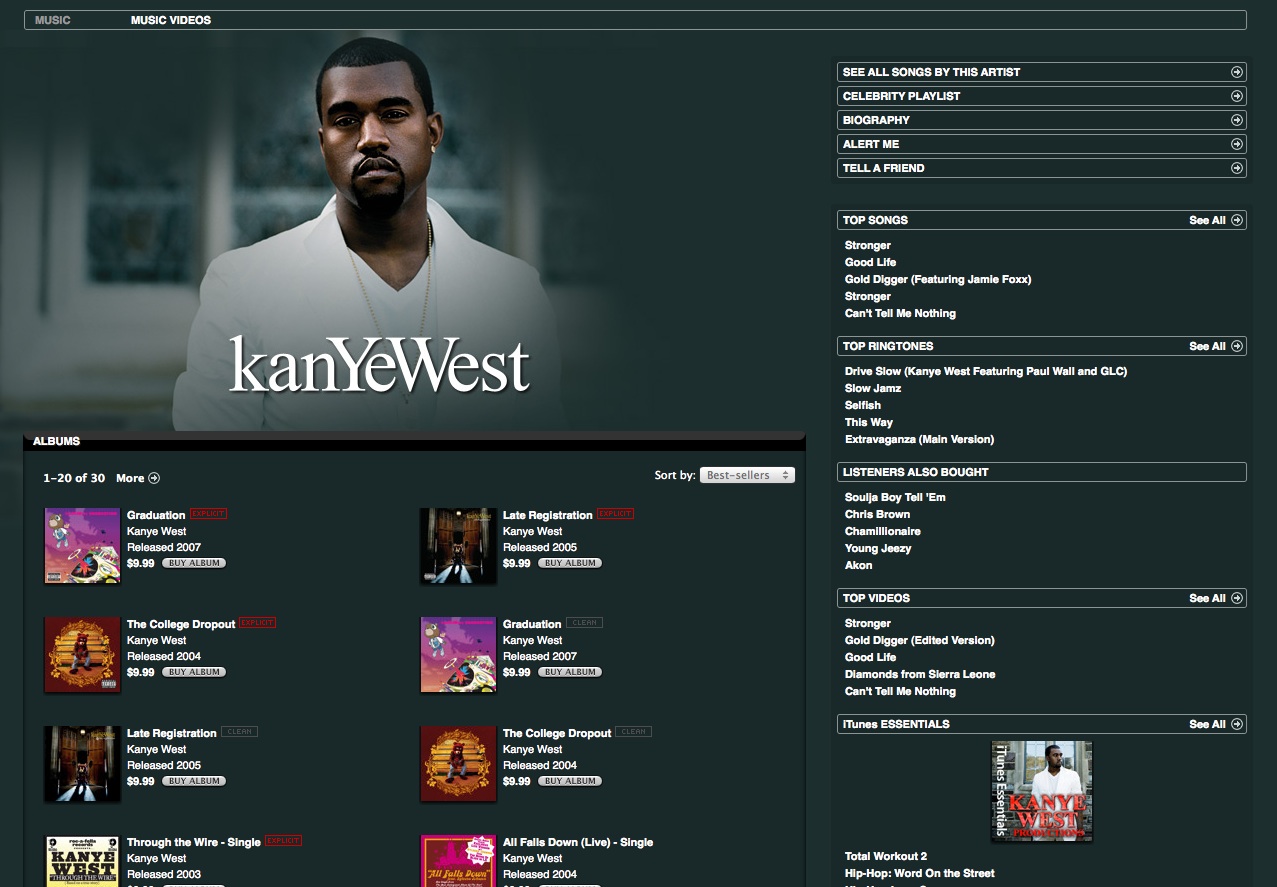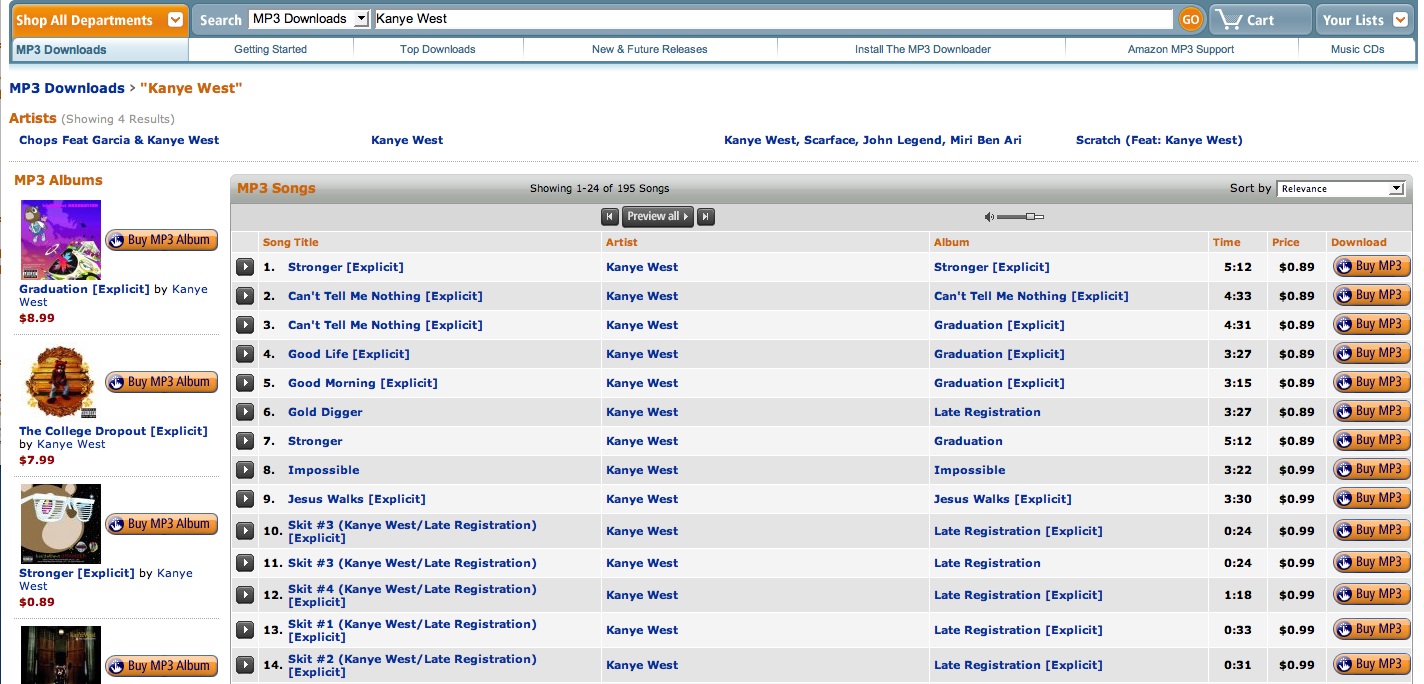 Keep in mind that just because Amazon MP3 songs are DRM-free, it doesnâ€â"¢t mean that you can legally share this music with friends. These tracks are also only available to U.S. customers for the time being.
Amazon MP3â€â"¢s terms of service states:
you agree that you will not redistribute, transmit, assign, sell, broadcast, rent, share, lend, modify, adapt, edit, sub-license or otherwise transfer or use the Digital Content.
Amazon MP3 Downloads is easy to use and will definitely save money for some users. If buying DRM-free music is important to you, then you should make your next purchase on Amazon MP3. If you want a richer browsing experience, additional content and are less sensitive to price and the portability of the music you should stick with iTunes.
It will be interesting to see how Amazon MP3 evolves and what impact it has on the industry. It will be difficult for Apple to justify a $.40 per song price gap for long.
Advertisement