Featuring a piano-black finish and a leather bound palm rest, the ASUS U3 is the latest 13.3-inch widescreen to notebook hit the market. The U3 weighs in at under four pounds, but lacks an optical drive, which is standard on most other notebooks this size.
The ASUS U3 is based on Intel's GM965 chipset, with a choice of Intel Core 2 Duo processors (T7500/ T7300/ T7100/ T5450/ T5250) or the more afforable Celeron M540. Wireless connectivity of the U3 comes by way of built-in WLAN 802.11 a/b/g/n and Bluetooth 2.0. Data security is enhanced by a fingerprint reader and TPM module. The ASUS U3 is loaded with ports including 3 USB 2.0 ports, HDMI, e-SATA and S-Video.
This notebook can be configured with a 160GB hard disk and 2GB of RAM. Due to its compact design, the ASUS U3 only has one memory slot.
We expect the ASUS U3 to start shipping in September at around $2,000.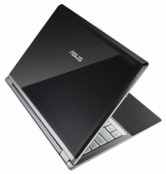 Advertisement