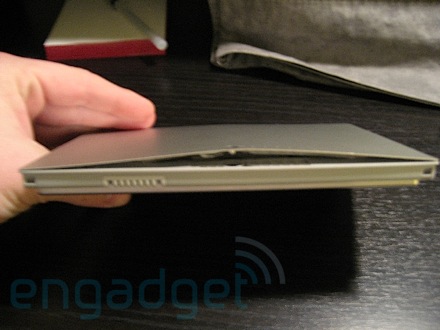 Apple is responding to several battery issues and encouraging MacBook users to run a software update. Many MacBook and MacBook Pro users have complained of sporadic battery behavior and physical damage.
These woes include batteries bulging after charging, not being recognized, and incorrect battery info being displayed in the the menu bar.
Apple is stopping short of a formal recall and says the issues pose no safety risk.
If any of the following occur after installing the update, Apple is asking users to bring their notebooks in to an Apple Store or contacting customer support:
Battery is not recognized causing an âہ"Xâ€Â to appear in the battery icon in the Finder menu bar.
Battery will not charge when computer is plugged into AC power.
Battery exhibits low charge capacity/runtime when using a fully charged battery with a battery cycle count (as shown in System Profiler) of less than 300.
Battery pack is visibly deformed.
photo via Engadget
Advertisement