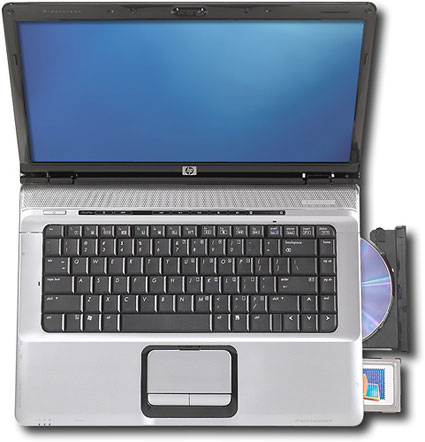 Best Buy will sell the HP dv6108nr (labeled as the HP dv6103nr for Black Friday) media center notebook for $379 as its notebook special to kick off the holiday shopping season. The dv6109nr is a configuration of the popular 15.4-inch HP dv6000t widescreen. The dv6103nr /dv6103nr runs on an Intel Core Solo T1350 (1.8 GHz) and comes with a DVD burner, 512 MB of RAM, WiFi, 80GB hard drive and HPâ€â"¢s Quick Play technology to instantly access your media files without booting up Windows. A remote control and earphones are also included to round out the multimedia experience. Lacking a dedicated graphics card, dv6109nr isnâ€â"¢t fast enough to handle hardcore graphics and gaming.
The dv6108nr normally sells for $749.99, so the discount almost chops the price in half. There are tons of deals popping up for the holidays, but the dv6108nr / hp dv6103nr is our favorite pick so far. While there are a few other sub-$400 notebooks hitting the market (Compaq wm5305v and Compaq v3000), the dv6108nr / dv6103nr is the only one with a DVD burner. The dv6108nr is also the most stylish, with HPâ€â"¢s signature high-gloss black and wave design finish. If youâ€â"¢re buying a budget notebook as a gift, this is the winner as thereâ€â"¢s nothing cheap about it except for the price.
If you want one, youâ€â"¢ll have to wake up early from your Thanksgiving day food coma since the price is only good from 5am to noon.
Update 11/9: I went to Best Buy today and the computers manager said they just received at least 20 of these machines for their store. He stressed that quantities will be very limited, so get there early. They are increasing stock of this computer, but they will probably go within minutes.
Update: 11/22: Also, check out the dv6102od from Office Depot which is on sale for $449 on Black Friday
Update: If you've missed this deal, check out the HP dv6000 product page
Advertisement