Want to install Mac OS X El Capitan, the latest version of Apple's critically acclaimed operating system, on your MacBook or iMac? It's easy (and free). Here's what to do.
First, find out whether your Mac can run the new operating system.
The last few releases of Apple's Mac OS have all shared the same minimum configurations. This is great for end users, as it means a huge swath of both recent and not-so-recent Apple customers can enjoy the latest security updates and new features.
That means that if your Mac runs OS X 10.10 "Yosemite", 10.9 "Mavericks", or 10.8 "Mountain Lion," it'll run El Capitan. Some older Macs will also be upgradeable, but you'll need to check in order to make sure. Luckily, Apple posts a handy list of the models you can expect to be compatible with the new OS:
iMac (Mid-2007 or newer)

MacBook (Late 2008 Aluminum, or Early 2009 or newer)

MacBook Pro (Mid/Late 2007 or newer)

MacBook Air (Late 2008 or newer)

Mac mini (Early 2009 or newer)

Mac Pro (Early 2008 or newer)

Xserve (Early 2009)
There are some reports of users modifying a system file that tells the OS whether it's on supported hardware, and getting machines like the powerful 2008 Xserve servers up and running: but it's not for the faint of heart, since you run the risk of losing the ability to boot any time your software gets updated.
You'll also want to make sure you have at least 2GB of RAM and a minimum of 8 – 10GB of free space on your hard drive. You can check to see what version of OS X you're running, along with how much memory you have, by going to the Apple icon in the upper left-hand corner of your screen, clicking it, and selecting 'About This Mac.'
If you find yourself running low on disk space, be sure to empty your Trash – it's easy to leave several gigabytes of files in there, never truly deleted. If you need even more room, take a peek at our guide on freeing up hard drive space on your Mac.
Next, back up your Mac.
Back up your Mac.
Back up your Mac.
We say it three times because it's an important step that way too many people skip. Upgrading your computer's operating system can leave it vulnerable: sometimes an important system file gets corrupted, or a pre-installed app interferes with something that the El Capitan installer needs to do. Maybe the power goes out.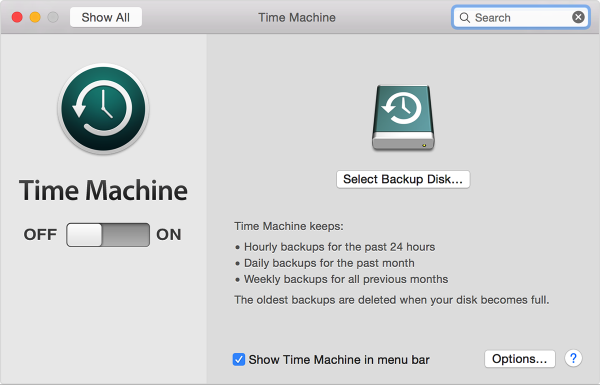 The point is that while these events are rare, it's easy to avoid the heartaches and headaches they cause by virtue of being prepared.
Fortunately, Apple builds a dead simple tool into OS X for backing up your Mac. It's called Time Machine. You can launch it from Spotlight (hit ⌘ + Space) by typing Time Machine into the search box and hitting enter. Never tried to back up your computer before? Don't worry. We've got your back with a guide on how to use Time Machine to back up and restore your Mac.

Next, look for the Mac App Store on your computer.
Click on the Apple icon in the upper left-hand corner of your screen, and select App Store from the list. If you don't see 'App Store,' it probably means that you're running Mac OS X 10.6.7 or earlier. In that case, run your computer's 'Software Update.' This will install the last version of Snow Leopard, which is OS X 10.6.8 – importantly, it comes with App Store pre-installed (and then you'll be able to follow these directions again).
If you do have the App Store, open it and search for El Capitan in the search box. Make sure you're downloading the official OS, and not paying for some sketchy help book: the OS X update will always be free (so if you see a dollar amount, stay away).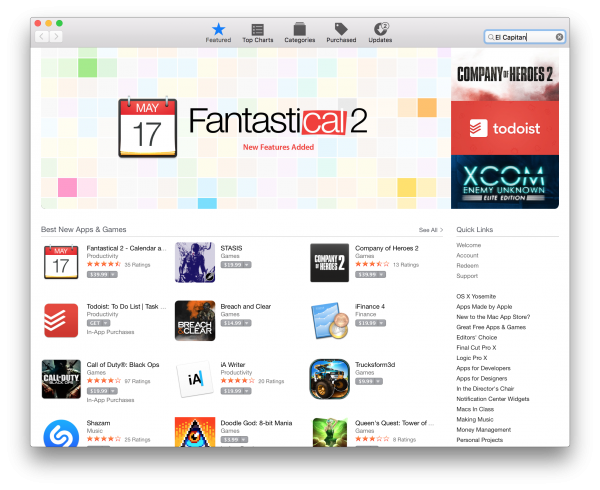 Click the download button to start the process, then go get something to drink. Depending on how fast your internet connection is, downloaded the several gigabytes can take anywhere from just a few minutes to a few hours.
Close all of your windows and look for "Install OS X El Capitan" on your desktop.
When your Mac finishes downloading all of the software necessary for installing El Capitan on your computer, it'll place an installer icon somewhere on your desktop. Just double-click this icon, and the process will begin.    
That's all there is to it. From here, you can expect your Mac to reboot one or more times, but the process is generally pretty hands off. Curious to see what's changed along with the new operating system? Check out our list of new features in El Capitan, and let us know if you like the new look!
Advertisement