Every time Microsoft makes a significant upgrade to its Windows operating system the essential questions begin. By far, the most relevant of these questions is should you buy a new PC to get the best out of the operating system. With the Windows 10 release this past Wednesday, many are asking themselves that question today. This week Notebooks.com was able to spend some time with one of the few reasons you might want to upgrade to a new Windows 10 PC if you can: Windows Hello.
Should you buy a new Windows 10 notebook to get your hands on Windows Hello's enhanced security? If you're worried about keeping your data safe and don't feel like typing in passwords, maybe you should.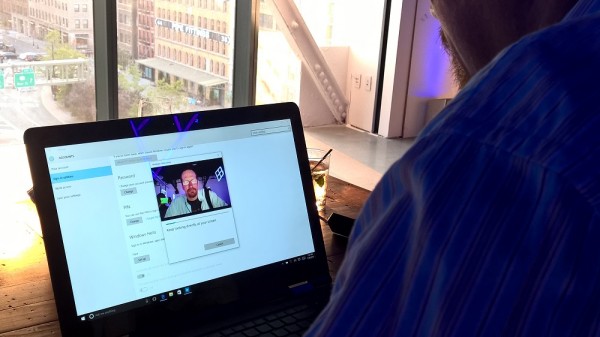 What is Windows Hello?
Earlier this year Microsoft first detailed Windows Hello. Don't worry, Windows Hello isn't yet another operating system that you need to know about or even something you have to use necessarily. Windows Hello's mission is simple. Microsoft wants to make the password less relevant than it is today.
Like Apple, Windows Hello uses sensors to achieve its goals. If your PC is loaded with a Windows Hello compatible fingerprint reader, Windows Hello lets you login without the terrible user experience that hardware makers like Lenovo and Dell have added to Windows for years. In that respect, the company is fixing a longstanding problem. Any user that downloads the free Windows 10 upgrade gets to take advantage of Windows Hello if they have the right sensors.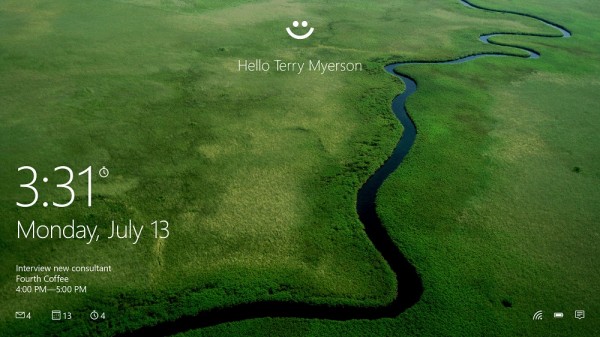 Windows Hello isn't just for fingerprint readers though. When paired with an Intel RealSense camera, users can login to their notebook, desktop or tablet with just their face. It's this facial recognition experience that provides a valid reason for users to get a new Windows 10 notebook. Intel RealSense is relatively new; it's only within this calendar year that device makers have included it in their PCs.
Hands-On with Windows Hello: Using Windows Hello
Long time Windows users were dumbfounded at the general public's fascination with Apple's TouchID fingerprint reader. "Windows has had these for years," is what I'm sure many of them were thinking. That Windows had something like this is both true and false.
Windows PCs had fingerprint readers, but they were pretty much specialized hacks. It wasn't until Windows 7 and Windows 8 that Microsoft stared ramping up support for sensors in Windows. Windows 10 adds first-class support for sensors like fingerprint readers and Intel RealSense. It's not enough for the hardware to be there, this stuff has to be easy and flawless if there's ever any hope of users adopting it.
Perhaps I still suffer through the emotional scars from past experiences, but I expected the Windows Hello setup process to be more difficult than it was. I opened the Action Center, tapped on the Settings button and found myself inside the Settings app. Microsoft smartly confined Windows Hello setup to the Accounts area that already has options for Picture Passwords and adding PIN codes. There's no extra screen to go to.
I stared at the screen for a bit and that was all I needed to do. A member from Microsoft's Windows Team then locked the PC so I could see how logins work. Getting back into the PC was pretty simple too.
"Looking for you," is what your PC says when you have Windows Hello turned on but your device can't see you. I stepped directly in front of the notebook and I was in. That was it. Later I hung back and watched as someone else tried the feature. He performed the same setup that I did, but choose to remove his glasses when logging back in. Windows Hello caught the trickery, and kept him out until he placed his glasses back on his face.
Hands-On with Windows Hello: Should You Buy a New Windows 10 PC for It?
If you're a security conscious user, maybe buying a new Windows 10 notebook for Windows Hello is the right move for you. Before heading out to the store though, note that you still need to provide Windows 10 with a password, you just don't need to use that password on a daily basis when logging in.
Read: Windows 10 Review: A Love Affair
If you have a notebook or Windows 2-in-1 with a fingerprint reader, I'd say your are fine keeping the notebook you have. If you have your heart set on a notebook or Windows 2-in-1 that will instantly unlock when it sees you, you'll have to invest in a new Windows 10 notebook. Intel has a complete list of Windows 10 notebooks that have Intel RealSense technology built into them on its website.
Advertisement