Something strange happened when many of the device makers who create Windows machines decided to focus on the future. No one ever said so definitively, but the notebook became another dated, classic design in the same way that the iPod with Video is almost laughably utilitarian today. I wouldn't say that the Lenovo ThinkPad X250 is necessarily out to prove the category is still alive for those at home. I wouldn't even say the ThinkPad X250 is out to prove anything at all.
That's because the ThinkPad X250 isn't a notebook that looks back at what's happening on other devices for inspiration. It's unapologetically a business and productivity machine that focuses on providing the best battery life it possible can and the most comfortable input methods available. Also, there are a few tricks sprinkled in for good measure that make it the best notebook I've used in a very, very long time.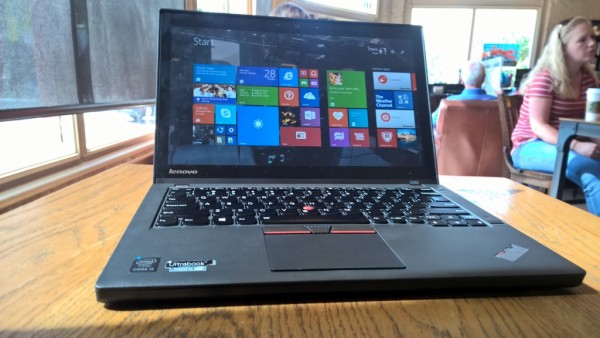 Lenovo ThinkPad X250 Review – Design
The parade of transforming notebooks that arrived along with Microsoft's Windows 8 operating system hasn't slowed in recent years. It seems every day there's a new tablet that can turn into a notebook or a notebook with a hinge that allows you to fold the screen in on itself. The ThinkPad X250 is refreshingly devoid of all gimmicks transformation related. It is a notebook through and through with some pretty nifty features.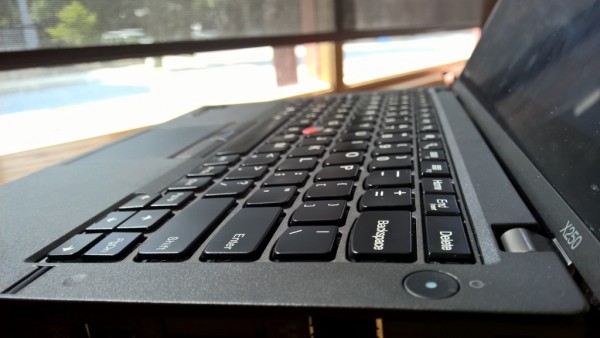 The ThinkPad X 250 isn't about looks. It's more about action and delivering a machine that can be ready and operational anytime, anyplace. The outside shell of the Lenovo X250 is a solid matte carbon fiber material that both looks and feels like it could take a beating. The classic ThinkPad and Lenovo logo sit on the lid, embedded in a sea of black. Metal tipped hinges connected the lid of the ThinkPad X250 to its lower half, which is also covered in the same matte material. Those hinges are about the only design flourish the machine has.
Along the bottom of the ThinkPad X250 are the first ports you'll notice. A single expansion port allows business and mobile professionals to connect to Lenovo's line-up of docks. An open-air battery compartment sits just above that dock port, letting users quickly switch batteries with just the push of a latch. The front edge of the ThinkPad X250 is tapered, making it feel a little thinner in the hand when you pick it up. It weighs roughly 2.8 pounds and measures 0.8 inches from top to bottom.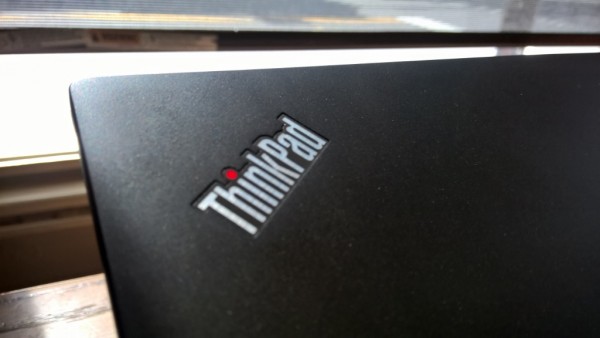 The ThinkPad X250 can take a beating. The company says that it's rated for high-pressure, humidity and even temperature shock. Its rated for Military-grade durability, according to Lenovo. Almost no part of this notebook bends or flexes, which is unheard with most notebooks these days. It does suffer from some slight bending just above the keyboard deck, but it isn't noticeable unless you firmly press on it.
The island style keys on the keyboard are surrounded by gray spacing and some extras that denote the business and enterprise focus of the ThinkPad X250. The top row of the keyboard is stuffed full of diverse function keys. There's a fingerprint reader for biometric sign-in, a touchpad and a trackpoint, which makes its return in this year's ThinkPad X250.
Lenovo ThinkPad X250 Review – Internals
Beefy internals are the hallmark of a quality business machine and high-end notebook. There are cheaper, basic notebooks and portables to satisfy the needs of anyone. Business buyers need to know that what's inside the ThinkPad X250 can take anything they throw at it. In that respect, I can't speak of the ThinkPad X250 highly enough.
The default $800 version of the ThinkPad X250 comes with an Intel Core i3 processor, Intel HD 5500 integrated graphics, 4GB of RAM, Wireless N technology and 500GB of storage space. The ThinkPad X250 can be configured pretty easily on Lenovo's website too. Upgrades include faster Intel Core i5 and Intel Core i7 processors and an upgraded 12-inch display that looks better than the standard 1366 x 768 display in the base model.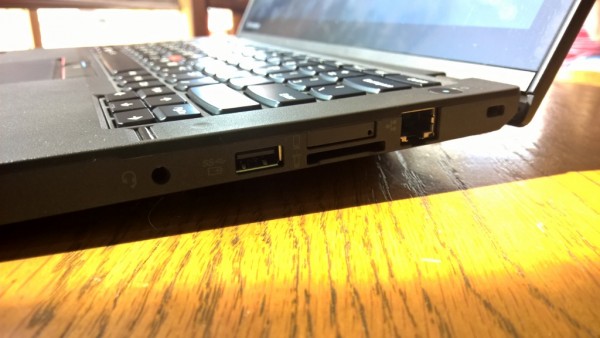 The ThinkPad X250 I tested was about as powerful a beast as you can make out of the ThinkPad X250. A 180GB SSD for storage, 8GB of RAM, a gorgeous 1920 x 1080 12-inch LED display, and an Intel Core i5 processor were inside. Every ThinkPad X250 includes a VGA port, 2 USB 3.0 ports, Mini DisplayPort, Ethernet port, dock connector and stereo speakers. There's also an optional mobile internet modem that lets the ThinkPad X250 use the internet anywhere your smartphone can. Unfortunately, I didn't get the chance to put it that functionality to the test.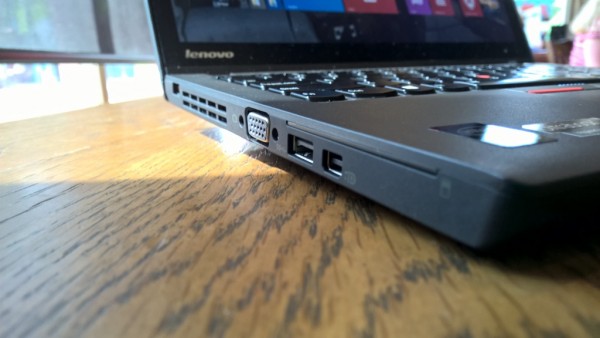 Those stereo speakers performed admirably. The only thing that marred the always-terrific backlit ThinkPad keyboard was a slightly altered function key position that will take you some time to get used to.
Lenovo opted for a matte display panel that doesn't show reflections nearly as much as most panels. I couldn't find an app or a game that I could throw at the this machine that it couldn't handle. What's more, I hardly ever heard the PC's fan during normal operation.
Lenovo ThinkPad X250 Review – Experience
About those nifty features I mentioned earlier. Every ThinkPad X250 comes with an external battery that's removable, at least at first glance. If you're not paying attention though you could miss that there's a second battery that's completely non-removable.
Business users want a notebook that'll last long, hence the removable batteries that most companies still include on their business machines. Lenovo takes this a bit further. The battery built into the ThinkPad X250 acts as both primary battery and life saver. If you're in the middle of something and need to quickly switch to the extended battery you can — without having to save your work and shut down your machine. By far, it's the best new feature I've seen in a notebook in years.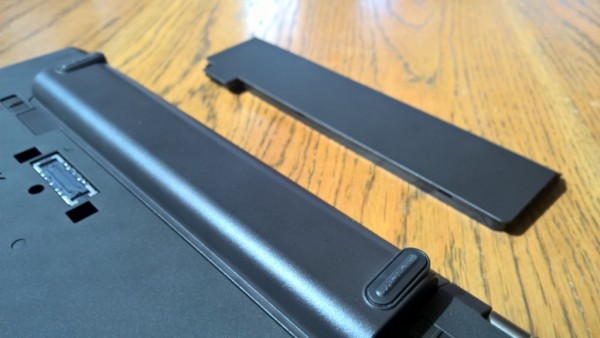 When you buy a Lenovo ThinkPad X250, you're not getting a single three-cell notebook, but six cells divided into two different batteries. What's more, you can upgrade to an even bigger second battery if you need more battery life. With the internal battery and the beefier battery the notebook lasted two and a half 8-hour work sessions without needing a charge, no Starbucks power plug hunting required. Lenovo rates the combination at about 20 hours per charge. When you do need to charge, know that it'll take longer than you're probably used to.
Businesses need to keep their information safe and they can effortlessly with the ThinkPad X250. A built-in fingerprint reader on the right edge of the keyboard works perfectly, but you have to get through the set-up process first. Early on it took a few strokes to get the login right, resulting in a bright red invalid logon light and some tips from the Windows login screen. I wasn't too thrilled with the software application managing the feature either, but it did get the job done, after crashing a few times. Microsoft's Windows 10 operating system, will take over this functionality in a few months time, thankfully.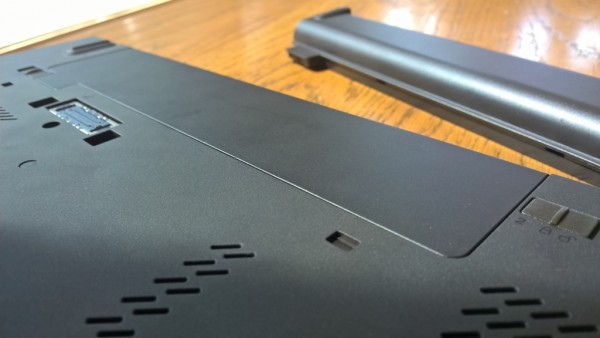 Speaking about software for a minute, the world has responded in-kind to the things that Lenovo and other PC makers include on their machines out of the box. I'd say Lenovo should get some credit for the Companion app it installs on machines at least. The version included on the ThinkPad X250 brings registration, warranty information, the latest news about Windows, tips and a way to send feedback into one place. It's actually really useful, particularly for battery information. I also felt like using the included Dolby software really made a difference in audio quality.
Software tricks and a microphone array keeps those on the other end of an important call from hearing your keyboard strokes and an echo even.
I'm decidedly less thrilled with some of the other software extras I found on the business-oriented ThinkPad X250. Lenovo Messenger, Google Play Music, PC App Store, McAfee Central and McAfee LiveSafe had me rushing to the Control Panel to uninstall them.
Lenovo ThinkPad X250 Review – Conclusion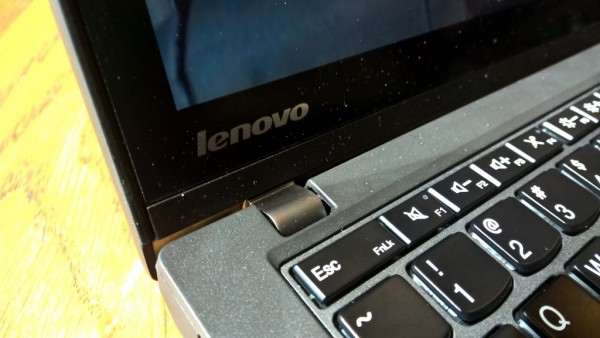 Every piece of technology has flaws. What we as buyers have to consider is whether those flaws amount to enough issues that we should stay away.
Aside from a less than reliable fingerprint reader, questionable function key placement and third-party apps that need vanquishing, I have no problem recommending the Lenovo ThinkPad X250 to anyone, business user or not. The hot swappable batteries are a stroke of genius and don't weigh the machine down or make it feel overly thick. Whenever you do switch out a battery it feels more like you're refueling a futuristic stealth jet without landing than completing a mundane task.
All the ports anyone could ever need are present. The device stays quiet even, running some of the most demanding productivity apps — like Photoshop — without much fan noise.
I love this machine. Anyone in the market for a notebook that appreciates a decent screen and long battery life will too.
Advertisement