The Notebooks.com team presents our top picks from CES 2015 in Las Vegas, Nevada. There are hundreds of top-notch products and accessories here in Sin City, but there are only a handful that stand out among the pack. Those are the devices that have received one of our Notebooks.com CES Excellence Awards for 2015.
Over the course of a week, our editors combed through hundreds of products and services on the showroom floor before putting together a list of notebooks and accessories the deserve recognition for their excellence. We looked at things like better battery life than what's available today, and thought long and hard about how the way someone works and plays.
While CES 2015 did produce a number of new smartphones and tablets, they weren't the focus of this year's event. So it should come as no surprise that our Most Outstanding of CES award went to a product a notebook that finally puts the word "beautiful" in the same sentence as Microsoft's Windows operating system.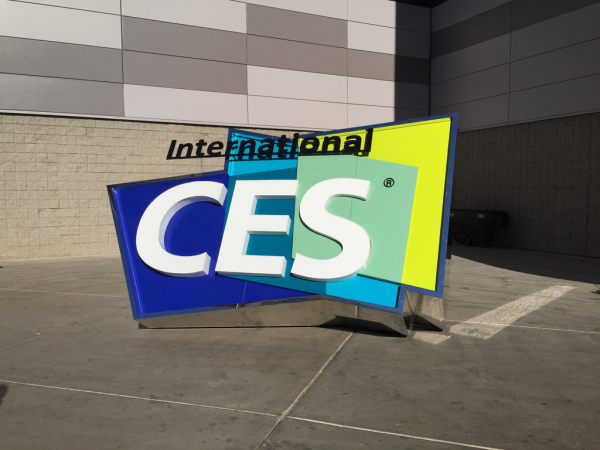 The team here at Notebooks.com recognizes the recipients of these Notebooks.com CES Excellence awards for 2015. Congratulations to the teams behind these products for delivering products that will significantly impact the lives of consumers around the world in 2015 and in the years to come.
Dell XPS 13 – Most Outstanding of CES 2015
Makers of notebooks powered by Microsoft's Windows operating system have tried to take down Apple's MacBook Air to varying degrees of success. Sometimes they came close. For example, the original XPS 13 had a decent design, but lacked the MacBook Air's battery life.
The new Dell XPS 13 is the first time there's been a MacBook Air competitor running Windows that checks all the correct check boxes. Dell has remixed the carbon fiber, aluminum and glass of the older XPS 13 in a new way. The outside of the XPS 13 oozes class with its lightly colored aluminum skin. Inside, each key and the trackpad are set in a carbon fiber deck. The new XPS 13's most striking feature is what Dell calls its Infinity Display. There's barely any border around the 13-inch high-definition screen that can be purchased with or without touch input. The new XPS 13's battery lasts 15 hours if configured with a FHD display and 12 hours if configured with the ultra-high resolution QHD+ display. The XPS 13 is able to hit these lofty battery numbers because of the 5th generation Intel Core processors inside it.
The new Dell XPS 13 starts at $799 without a touch-screen display. It wins the Notebooks.com CES Excellence Award for finally giving Windows users what they always wanted, a MacBook Air running Windows with killer battery life and enough power to get things done.
Alienware 15 – CES 2015 Excellence Award
Gaming notebooks have always been a double-edged sword. Strictly speaking, they're portable; you can play games with them away from home. That being said, weight and girth have always been a problem.
The Alienware 15 wins a Notebooks.com CES Excellence Award for reintroducing high-end gaming innards to a 15-inch form factor. The Alienware 15 can be configured with NVIDA graphics cards and a ridiculous amount of RAM. Additionally, it's compatible with the external graphics card add-on just like other Alienware notebooks.
The Alienware 15 starts at $1,199.
Lenovo ThinkPad T550 – CES 2015 Excellence Award
Lenovo's ThinkPad T550 doesn't deliver on the things most companies are pushing these days. It's a business notebook that packs the power of a 5th generation Intel Core processor and rugged design. When configured with the right options the ThinkPad T550 blows everything else away.
It can be configured with a 3K 15-inch display and a graphics card that'll let it edit photos, render video and play games on maximum settings. What sealed the Notebooks.com CES Excellence Award for the Lenovo T550 is battery life though. It already has an internal batter and users can add another that'll let them get work done away from their desk for 24 hours. That's a lot of uptime and productivity, especially when you consider most new notebooks running Windows are just starting to hit 15 hours of battery life. It's that battery life that sealed the Notebooks.com CES Excellence Award for the ThinkPad T550.
The base model Lenovo ThinkPad T550 costs $849.
Lenovo LaVie Z – CES 2015 Excellence Award
Lenovo's LaVie Z notebooks aren't taking home a CES Excellence Award for Design. They're really black boxes. That being said, they are getting an award for being the lightest notebook and convertible running Windows there has ever been.
The Lenovo LaVie Z HZ750 is a touchscreen equipped Windows 2-in-1 that weighs a little over two pounds. The Lenovo Lavie Z HZ550 weighs just 1.7 pounds. Together they both weigh about the same as two cans of soda.What's more, they both come equipped with Intel's Core processors.
Samsung Portable SSD T1 – CES 2015 Excellence Award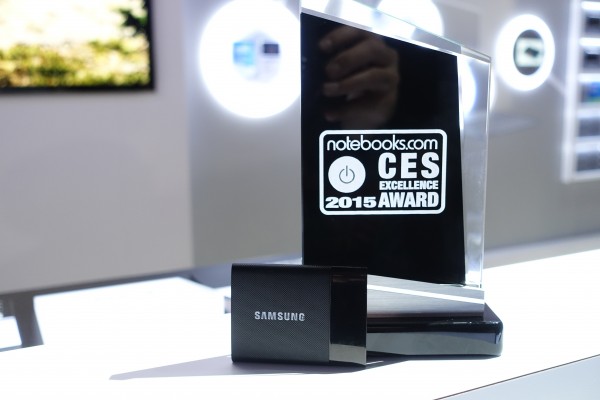 Backing up your data or keeping all of your latest data with you has never been easier than it will be for buyers of the Samsung Portable SSD T1. The Samsung Portable SSD T1 is a solid state drive. Essentially, it's a hard drive made of the same speedy type of storage used in smartphones and tablets these days.
The Samsung Portable SSD T1 wins the Notebooks.com CES 2015 Excellence Award for its speedy transfers, good looks and option to turn on encryption and protect your data. Samsung will begin selling the Samsung Portable SSD T1 with $180 with 250GB of storage, $300 for 500GB of storage and $600 for 1TB of storage.
HP Envy 34C & HP 34Z – CES 2015 Excellence Award
Everyone has a curved display, but not everyone is delivering on curved displays with all the right functionality and features. That's where the HP Envy 34C and HP 34Z come in. They're each capable of delivering high-definition video and have an amazing refresh rate. HP smartly used a hinge that gives users free access to all of the ports they need from the back of the 27-inch display. Flanking the HP Envy 34C are two front-facing speakers.
All of this is a long way of saying that buyers of the Envy 34C and HP 34Z are in for a fanatic viewing experience whether they are connecting the HP Envy 34C to a computer with a VGA port or a console with an HDMI port. The HP Envy 34C wins a Notebooks.com CES Excellence Award for bringing an excellent tablet to the masses for a reasonable price.
Toshiba Portege Z20T- CES 2015 Excellence Award
Windows 2-in-1s have taken over the mobility landscape since Microsoft introduced Windows 8 to the wider world back in 2012. Like Windows 8 itself, 2-in-1s built around it have struggled to find a comfortable middle ground between work and play, tablet and notebook. Toshiba managed to hit the right notes by including essential ports on the tablet half of the Portege Z20T and bundling it with a real hardware keyboard dock that turns into a full-fledged laptop. That's why it gets a Notebooks.com CES Excellence Award.
Unlike other 2-in-1s, there's no compromise here; buyers aren't losing anything by picking one up over a traditional notebook. The Toshiba Portege Z20T begins shipping later this month for $1,399 with its keyboard dock.
Advertisement