The HP EliteBook 1040 Folio G1 is a solid machine that should satisfy anyone looking for a highly mobile computer . Starting at $1,299, there's a lot to like about this notebook including the fact that it launches into Windows 7 rather than Windows 8, the new touch-optimized operating system that frustrates a lot of people that just want to get stuff done.
Though HP designed the HP EliteBook 1040 Folio G1 for for mobile professionals, this notebook is an excellent choice for anyone that's highly mobile and doesn't mind spending a little more for professional-grade features. For example, college students that want a notebook that will endure four years of abuse should take a look at this notebook rather than entertainment-focused notebooks.
You can order the HP EliteBook 1040 Folio G1 from Amzon.com, HP.com and other online retailers. You won't find it at Best Buy, Walmart or other retail stores.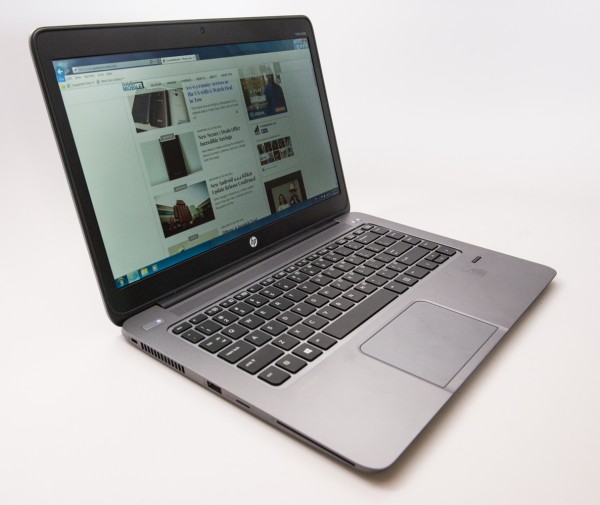 So what makes the EliteBook 1040 Folio G1 the right notebook for highly mobile users? An HP rep I talked to called it the most aggressively mobile notebook the company's ever designed. Its thin, light, solidly built and meets 12 MIL-SPEC standards. That means it can survive moderate drops, keep out the elements and survive high altitude. I also like the matte display and love the fact that it ships with Windows 7 preinstalled.
This is a quick video overview of the HP EliteBook 1040 Folio G1.
Here's a video I shot of the HP IndyCar team that shows how this team uses EliteBooks in demanding situations. The video is three years old, so the hardware is a bit dated, but it gives you a sense of the kind of users that the HP EliteBook team designs notebooks for. HP's really stepped up its design game over the past few years, moving beyond utilitarian industrial design and focusing on what matters to end users. The company's designers realized that business users are using work computers as their only machines and baked in a lot of creature comforts. Part of the reason the build quality is so good is because HP uses CNC machining precisely cut out the keyboard, ports and other components from chunks of solid metal.
The HP EliteBook 1040 Folio G1 measures just 15.9mm thick at its thickest point, making it the thinnest EliteBook to date. A curve on its base reduces that thickness at the front and rear of the computer. On the left edge of the notebook are a lock slot, fan vent, USB 3 port, microSD card slot and a Smart Card reader. Smart Cards readers are required at some companies and are generally used for security, but don't have any practical use for consumers. The microSD card reader is useful for adding up to 128GB of storage to the notebook or transferring pictures from small cameras and cell phones, but I really wish HP offered a standard SD card slot so it could accommodate the most common camera cards.
The right edge of the notebook has a docking connector DisplayPort slot, USB 3.0 port and an audio jack that can accommodate both headphones and headsets with microphones. The optional dock connects to Ethernet, monitors and other accessories. To the left of the audio jack is a slot for a 4G LTE SIM card for those that opt for cellular data capabilities. Virtually anyone that's in the market for this kind of computer will have a smartphone and it's generally more economical to just activate your phone's hotspot and share its connection with your notebook.  Just above the SIM card slot on the palmrest is a fingerprint scanner that adds extra security to the computer.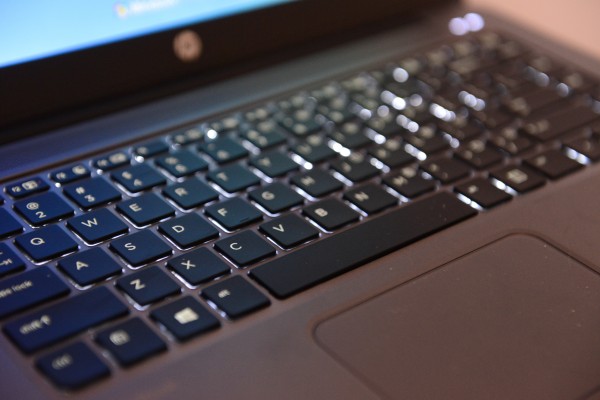 The keyboard on this machine is comfortable to use and reliable. I didn't have any trouble typing articles and emails over a couple of full workdays with it. Some users might find it difficult to avoid brushing up against the touchpad while typing. A quick tap on the F2 button temporarily disables the touchpad. The keyboard is backlit, automatically illuminating when needed. More importantly, the keyboard is spill resistant, which means it channels spilled drinks away from the computer's guts.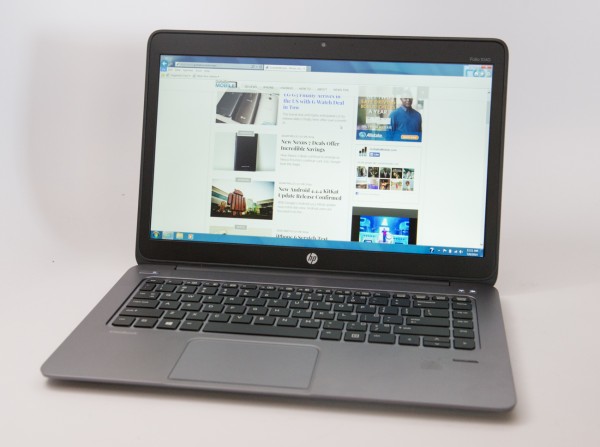 One thing that I absolutely love about the HP EliteBook 1040 Folio G1 is its 14.4″  matte display. This is something that's sorely missing on most consumer notebooks. While matte displays don't have the visual pop that some people prefer for watching movies and playing video games, they're better for users that have to work in a variety of environments. It's much easier to read text and view items in bright rooms since matte displays don't reflect whatever's behind the user. The version HP gave to us is full 1080p (1920 x 1080 pixels), while the base model comes with a a 1600 x 900 pixel display. I strongly recommend opting for the higher resolution display.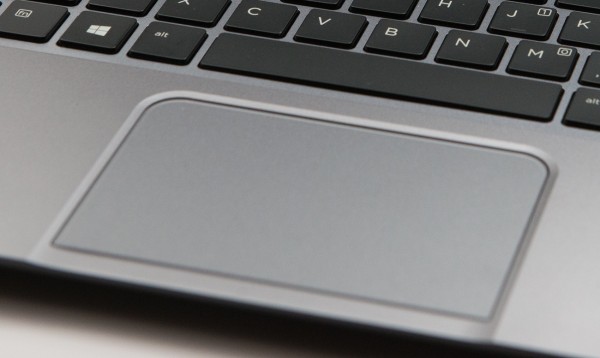 The HP EliteBook 1040 Folio G1 has a giant touchpad called a ForcePad. There are no physical buttons, with taps registering as clicks. There are a variety of gestures that make it easy to navigate around Windows and your applications. It definitely takes some getting used to, but I quickly adapted to it. HP offers a PDF= tutorial guide on how to use it. Sliding two fingers up and down the ForcePad scroll Web pages, pinching zooms in and out of photos, and tapping with two fingers counts as a right click. One thing that helps soften the learning curve is that there's an audible click each time you tap on the ForcePad.
Virtually every Windows machine sold these days ships with Windows 8, which is a complete rethinking of the desktop experience. Windows 8 is optimized for a touchscreen experience, which is something business users simply aren't biting at. Walk into virtually any enterprise business and you'll notice the lack of Windows 8 PCs. The HP EliteBook 1040 Folio G1 ships with Windows 8.1 Pro, but as you can see in the above photo it boots into Windows 7. That's because the Windows 8.1 license includes downgrade rights to Windows 7. Though Windows 8 is the way of the future, I still find it much easier to get stuff done in Windows 7 and like the familiarity of the desktop experience. Seeing that the HP EliteBook 1040 Folio G1 doesn't have a touchscreen is yet another reason to run Windows 7 on it.
One benefit of buying this professional machine is that it comes with a clean install of Windows, free of all the clutter and crapware found on consumer notebooks. There's the start menu, a couple of guides and not much else. HP does offer a nice security suite that helps encrypt your data, secure your machine and digitally shred sensitive documents.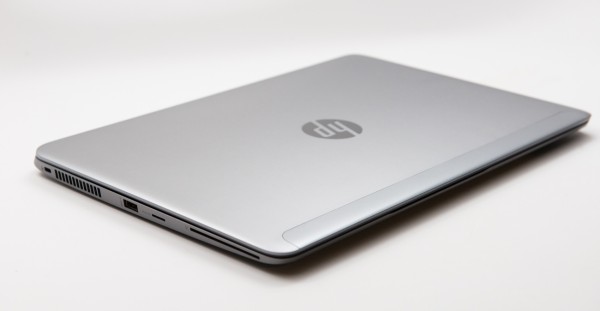 The HP EliteBook Folio 1040 G1's lid is pretty clean with a reversed black HP logo in the middle and a horizontal cutout for radio signals on the top edge.
The model HP gave me had an energy-efficient core i5 processor that was more than capable of handling everyday tasks. There is an optional Core i7 processors available, though most users won't notice a performance boost in the most common applications. If you're looking to edit video or play the latest video games then this isn't the right computer for you since it doesn't have a dedicated graphics cards. A big part of the reason that the HP EliteBook 1040 Folio G1 is speedy is because it ships with a solid state drive (SSD) rather than a standard hard drive. The base configuration comes with only 128GB of storage, which is too cramped for most people using this computer as their sole computer if they have a lot of media or heavyweight applications.  The review unit had a 256GB SSD and there's a 512GB upgrade for those who need even more room.
When I used the HP EliteBook Folio 1040 G1 for a full day of work the battery lasted for just under seven hours on a single charge. That's shy of HP's 9.5 hour claim, but PC vendors typically publish battery life claims with testing done in ideal conditions. I, on the other hand, generally use notebooks at or near full screen brightness and have several applications and browser windows open at the same time.
The HP ELiteBook Folio 1040 G1 doesn't have as many bells and whistles as some computers, but it excels at helping users get stuff done.
Advertisement