Yesterday the Building Windows 8 blog posted a lengthy update about Windows On ARM (WOA), the version of the operating system for ARM-chip based devices.
Microsoft is working with major ARM chip makers like Nvidia and Texas Instruments to design PCs for WOA, but I suspect that the majority of the devices consumers see will be tablets.
The post is very long and offers a huge amount of information, but one thing in particular struck me:
Windows on ARM software will not be sold or distributed independent of a new WOA PC, just as you would expect from a consumer electronics device that relies on unique and integrated pairings of hardware and software.
Really?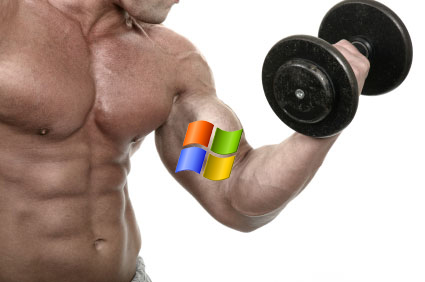 Usually a consumer can get Windows as a disk for upgrading or installing on a computer they build themselves. Apparently the company is not up with self-built ARM computers.
Their reasoning for this is two-fold. Further down in the post the author brings up consumer-friendliness:
…you never have to worry about which DVD to install and if it will work on a particular PC.

…

While each WOA PC offered will be unique, the role of Windows is to present a consistent experience to customers while allowing the unique and innovative hardware to shine through…
And he also highlights that a great experience with WOA will depend on a tighter software/hardware integration than regular Windows:
[Texas Instruments, Qualcomm, and NVIDIA have] been working with partners that will bring WOA PCs to market. These PCs have all been designed and manufactured expressly for WOA. From the chipset through the firmware and drivers, the work is optimized to be great for WOA. Partners are working hard on creative industrial designs and form factors that will include more than tablets.
I know from experience that you can't just slap an OS onto a device and expect it to run well just because it meets the basic specs, even moreso with the chips we've seen in tablets and smartphones recently. So I can see the merit in this strategy, especially for mainstream consumers.
I just wonder if this is also to keep hobbyist devs and hackers from putting Windows 8 is places where Microsoft thinks it doesn't belong. Like on an iPad or a Galaxy Tab. I have no idea if such a thing is even possible, but you know someone is going to try.
Personally, I'd like to see if the Raspberry Pi can handle it.
Perhaps that's part of it, too. It's possible to build very inexpensive ARM-based devices like that. If you could get Windows 8 running on it, why buy a computer that costs more? Oop.
Not everything is an evil conspiracy, but I wonder what the end result will be? Can hackers somehow get at WOA enough to port it to another system? Will we see jailbroken WOA PCs shortly after launch?
I'll be keeping a closer eye on xda developers to find out…
Advertisement