Apple pushed out some minor updates this week for the Safari Browser, Keynote (the company's presentation application) and the iCloud Control Panel for Windows. The updates don't add any new functionality to the supplications, but they do fix a few minor bugs.
The update to Safari includes the following:
Addresses issues that cause hangs and excessive memory usage
Addresses issues that could cause webpages to flash white
Allows PDFs to be displayed within web content
The update brings the version number of Safari to 5.1.2 and contains 40.2MB of data.
The update to Keynote fixes a problem caused by using rather large Keynote presentations while working in OS X Lion and brings Keynote's version number to 5.1.1 with the 35.2 MB update.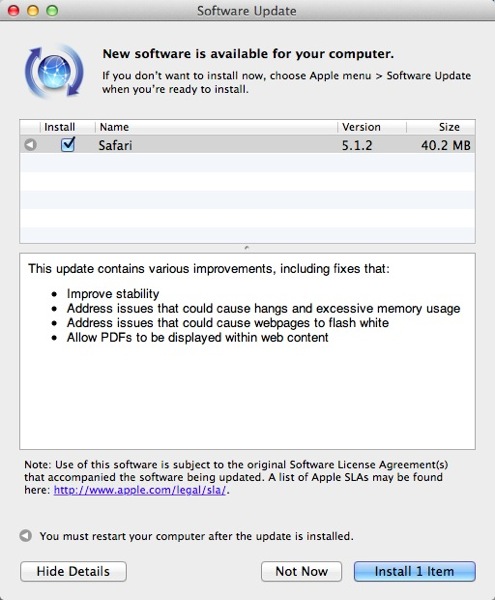 You can get these updates through the Software Update item on the Apple menu in OS X. The Keynote update will show up on the Mac App Store if that's where you bought your copy of Keynote. You can also get the update via Apple's website (Keynote update, Safari Update).
The Windows iCloud Control Panel also got an update. The update brings compatibility with the above Safari update if you are running Windows. It requires Vista or higher and brings the version number to 1.0.1 in a 40.03MB update.
Advertisement