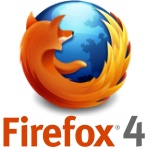 If you have a multi touch mousepad and have already downloaded Firefox 4, you can enable mulitouch gestures by changing a few settings. This will allow you to pinch to zoom in Firefox 4 and enable the use of a twist gesture to switch tabs.
To enable pinch to zoom, you need to head over to the configuration for Firefox 4 which isn't under the menu, but rather typed into your address bar. The functionality is already in there, we just need to turn it on.
Type about:config in your address bar.
Click I'll be careful, I proimise!
In the filter box type "browser.gesture" without the quotes and you will see the list of options.
For the Pinch to Zoom double click on each of the following entries and past in the cmd portion.
  browser.gesture.pinch.in         cmd_fullZoomReduce

  browser.gesture.pinch.in.shift   cmd_fullZoomReset

  browser.gesture.pinch.out        cmd_fullZoomEnlarge

  browser.gesture.pinch.out.shift  cmd_fullZoomReset
To enable twist gestures, change these entries
  browser.gesture.twist.left       Browser:PrevTab

  browser.gesture.twist.right      Browser:NextTab
If you end up messing something up, you can go back in and change the entries back to the original blank to disable them.
Firefox 4 offers a new interface, speed improvements and features. To find out more, check out our Firefox 4 overview.
Advertisement