Best Buy has the Gateway NV51B08u 15.6″ AMD Fusion powered notebook for sale this week for $349.99. The NV51B08u is using the latest AMD C series processor which includes not only the traditional CPU, but also a graphics processor to enable users to get the full HD experience found on websites and from downloaded HD videos.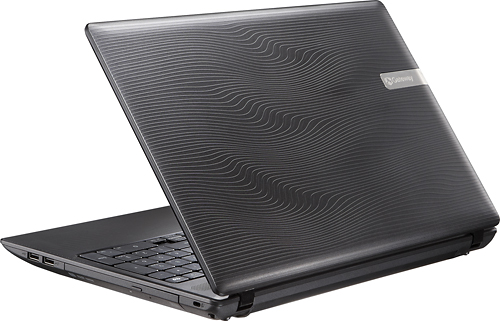 Gateway NV51B08u Overview:
The Gateway NV51B08u is a 15.6″ budget notebook from Gateway that is powered by a 1.0GHz AMD FUsion C series APU, 3GB RAM and a 320 GB hard drive. The laptop has a Radeon HD6250 GPU and a webcam for watching HD video and keeping in touch with friends and family with video chat programs like Skype.
Who is the Gateway NV51B08u Best Suited For:
With these specs the NV51B08u isn't designed for use at the office, but it should have enough power to meet the needs of many home users who are looking for notebook that can handle home office tasks like web, email and word documents as well as transition to playing back HD video from websites. You won't be playing games with this notebook, but you shouldn't expect to at this price.
Here's a Video Explanation of AMD Fusion Processors from CES 2011:
Is the Gateway NV51B08u a good buy?
If you want a basic computer that won't choke when you try to playback video, then the NV51B08u is worth looking at. We suggest you head in to your local Best Buy, the only store that sells this specific model, to get hands on time with the laptop to make sure that you like the keyboard and the overall look and feel of the device. If your needs match up with the tasks we described above then, yes, the Gateway NV51B08u is a good buy.
Gateway NV51B08u Detailed Specs:
1.0GHz AMD C-Series processor C-50
3GB DDR3 memory
Multiformat DVD±RW/CD-RW drive with double-layer support
15.6″ LED-backlit high-definition widescreen display
320GB Serial ATA hard drive (5400 rpm)
AMD Radeon HD 6250 graphics
Media control function keys
Keyboard with Number pad and Multi-gesture mousepad
Built-in 1.3MP high-definition webcam with microphone
2-in-1 digital media reader
3 high-speed USB 2.0 ports
Built-in wireless LAN (802.11b/g/n)
Built-in 10/100/1000 Gigabit Ethernet LAN
Weighs 5.7 lbs. and measures just 1.3″ thin
Long battery life – up to  4 hours and 42 minutes
Microsoft Windows 7 Home Premium Edition 64-bit operating system preinstalled
Gateway NV51B08u Gallery:
Advertisement