Frontface is an overlay for Windows from Mirabyte which tries to make Windows more touch friendly with a simplified user interface. The company claims it will make using a netbook, tablet, or home computer easier to use for average users. It has previously been in the Release Candidate phase, but the company has announced that the first full release is available now.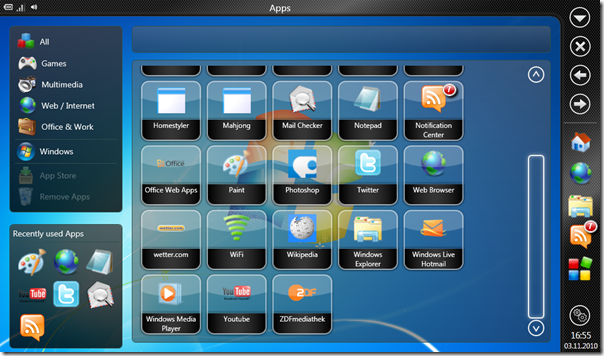 The interface is more widget or app like with four main areas. The menu along the left handles much used items and folders of links to useful sites based on type with recently used applications below that. The right hand toolbar is buttons for navigating around the interface. The top toolbar shows things like battery levels, Wi-Fi connection strength, and a volume icon as well as the title of the open window. And the main screen contains icons or buttons for all the applications on the computer.
The buttons and icons are larger making them easier to access with a finger. It will multitask and has a switcher so you can jump from one application to another using the large arrows in the upper right or show all open applications by touching/clicking on the down arrow. The main page is customizable so you can put your applications where you want them. It has a browser that makes controls all touch friendly. The utilities screens handle stuff like Wi-Fi connections and computer settings information. They too are touch friendly.
The FrontFance notification center brings all the information about things like social networks, email, and others into one location.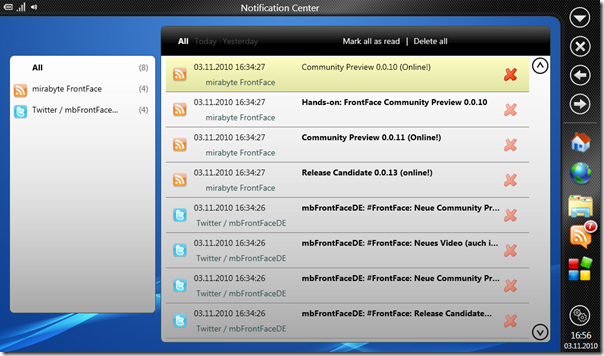 The program costs $29.95 for a limited time but will be $39.95 thereafter. Before you click the link and give them your credit card number, be sure to download the trial version. The interface is attractive and didn't seem to slow down our system too much. However, in our very brief test it crashed within a minute of its first use and forced us to end the explorer.exe task using Task Manager and restart it manually in order to get access to the main Windows interface and taskbar.
If this happesn to you, press Control+Alt+Delete and choose Start Task Manager. From the Processes tab find explore.exe and right click it. Choose End task. Then click on File and then Run and type explore.exe in the dialog box and hit enter.
The program will run on nearly all versions of Windows back to XP. See the video demonstrating the interface below:
Advertisement