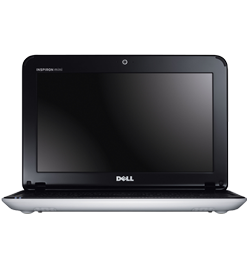 For those looking for the absolute fastest connections on the go, 4G is the answer. While there current 4G offerings may not meet the technical definition of 4G, they are faster than 3G. T-Mobile 4G connectivity is available in 75 cities or metropolitan areas and is rolling it out further in 2011.
They sent over what they are calling the first 4G netbook, a Dell Mini 10 4G for us to test out on a recent trip to Columbus Ohio where they offer 4G connections.
During our test we checked the speed of the 4G connectivity and the usefulness of this speed in a netbook form factor. We will have a full review of the Dell Mini 10 4G up in a few days, but we wanted to share our impressions of 4G speed with you now. The Netbook runs $229 online with a 2 year contract.
How fast is T-Mobile 4G?
According to the T-Mobile their 4G network, known as HSPA+, can achieve speeds of up to 21Mbps in theory and according to their press release has seen average speeds of 5Mbps and peak speeds of 12Mbps. In our testing near the Polaris shopping center in Columbus Ohio were were able to achieve speeds between 2Mbps and up to 6.99Mbps using the built in 4G modem, much faster than we had on our Verizon powered 3G MiFi hotspot.

T-Mobile 4G Speed Test Results:
6.99Mbps down / .48Mbps up
5.06Mbps down/ .57Mbps up
4.95Mbps down / .35Mbps up
4.77Mbps down / .49Mbps up
2.17Mbps down / .56Mbps up
2.08Mbps down / .49Mbps up
Average T-Mobile 4G Speed: In our tests the average speed of T-Mobile 4G was – 4.34Mbps down / .49Mbps up. This speed was almost as fast as our home Time Warner connection on some days, and was able to connect almost instantly once Windows had booted up.
What can you do with a 4G powered netbook? Well, you can surf the web really fast, but more likely you'll be using it to move around large files or remotely connect to another computer at high speeds. We were able to stream a Netflix movie without any trouble, but our attempts to watch a clip on Hulu were thwarted by the lack of a broadcom HD accelerator.
At this point a 4G netbook feels like a good tool for business users who need a faster connection, but unfortunately the netbook lacks the specs to gain a seal of approval for home users who are looking for a device that is also good for entertainment, which is a shame given the speeds we achieved. Thankfully you can get a WebConnect Rocket Laptop USB stick with 4G HSPA+ connectivity as well.
Here's a video from Sumocat over at GottaBeMobile who reviewed the WebConnect Rocket Laptop USB stick this summer.
Here's a look at T-Mobile 4G coverage:
Advertisement