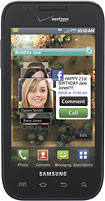 Best Buy will be selling the Samsung Fascinate for $0 after a $150 credit and various subsidies on Black Friday, but it's not worth waiting in line for. The Samsung Fascinate is a smartphone that's being promoted heavily by Verizon, Samsung and numerous retailers. It's a good enough phone, but this deal is nothing to write home about.
The Samsung Fascinate was recently reviewed by Chris Leckness on our sister site GottaBeMobile.
The Samsung Fascinate has an MSRP of $599.99, which is on par with many other mobile phones. That's the price you'd have to pay if you didn't want to sign up for a new two year contract or if you're upgrading very early. Mobile carriers typically subsidize the up-front cost of smartphones. In exchange, their subscribers agree to long-term contracts that can be worth thousands of dollars, making the subsidy a wise investment for Verizon.
The Samsung Fascinate typically has a $300 subsidy attached to it. But Verizon and most resellers are currently offering additional discounts. Verizon is currently selling the Samsung Fascinate for $199.99 after a $100 discount and $300 subsidy. Wirefly is selling it for $0 and Amazon.com is selling the Samsung Fascinate for $29.99. Amazon is waiving the activation fee on this phone, which effectively brings the cost down to zero.
Obviously it doesn't make sense to buy the Fascinate direct from Verizon Wireless for $199.99 when there's all these other deals out there. It also doesn't make sense to wait overnight in line in front of Best Buy on Black Friday to get the same deal as you can with Amazon, Wirefly and other online retailers.
To make matters worse, Best Buy will only have a minimum of 10 white Samsung Fascinate smartphones and 10 black ones at each retail store on Black Friday. Best Buy is advertising this deal as if it's something customers should covet, but the truth of the matter is that it's not much of a deal at all. If you're already heading to Best Buy on Black Friday for other items you may as well buy your Samsung Fascinate from there, but don't skip Thanksgiving dinner just to wait in line for this phone.
The Samsung Fascinate is an smartphone that runs Google's Android mobile operating system. It can act as a mobile hotspot, allowing you to use it to get online with your laptop and other mobile devices. Ut has a 5MP camera that's capable of recording 720p HD video. Many users prefer this phones' Swype technology for typing on a touchscreen.
Visit this page to learn more about Best Buy's Black Friday deals. Visit Notebooks.com's Black Friday page to see all of the Black Friday tech deals and learn more about Black Friday laptops.
Advertisement