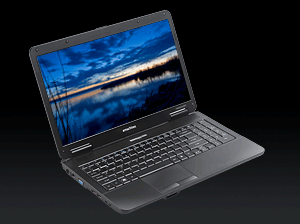 Many of the Black Friday Laptop deals have been released, and according to reports from CNN there are several Black Friday Laptop deals from Walmart for Black Friday 2010. One of the deals is what we expect to be the eMachines eMEs28-2325 15.6″ notebook which is expected to be available for $198 as a Black Friday doorbuster.
The eMachines eMEs28-2325 is rumored to come  with a 2.2Ghz Intel Celeron processor, 2GB of RAM, a 250GB hard drive, Windows 7 Home Premium as well as Wifi and a CD/DVD Burner.
This notebook is a very budget spec'd machine, lacking many of the features we suggest you have in our our 10 Things to Know Before you Buy a Black Friday Laptop or Netbook. While the processor may seem to be very fast it is older and given the amount of Ram you won't want to run lots of programs at once.
That said, if you plan to surf the web, send a few emails and watch the occasional YouTube video this notebook should meet your needs.
Check back on our Black Friday Laptops page closer to Black Friday for our top picks in several price categories.
Advertisement