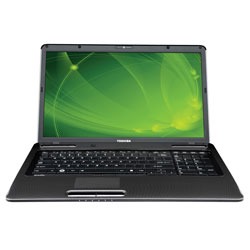 Office Depot is offering a $30 discount on the Toshiba Satellite L675D-S7016 on Black Friday, dropping its price down to just $499.
The Toshiba Satellite L675D-S7016 is a configuration of Toshiba's larger Satellite entertainment notebook. This laptop comes with a 2.3GHz AMD Turion II dual core processor and ATI Mobility Radeon HD 4250 graphics. This combination should be sufficient for most home users, but it is not powerful enough to play the latest video games at full resolution.
It features a 17.3″ display, which is a good thing for those that like to watch movies or slideshows on their PCs. A big display equates to a big laptop however, so those who plan on bringing their laptop outside very often should avoid this computer. The Toshiba Satellite L675D-S7016 weighs in at 6.6 pounds. The display has a resolution of 1600 x 900 pixels.
Being an entertainment-focused PC, the Toshiba Satellite L675D-S7016 does come equipped with Dolby Advanced Audio, a feature that dramatically improves the audio output quality of music, movies and video games.
The Toshiba Satellite L675D-S7016 ships with Windows 7 Home Premium. It comes with 4GB of memory and a 320GB hard drive, which is a bit on the small side for an entertainment notebook these days.
There are cheaper laptops available on Black Friday, but the Toshiba Satellite L675D-S7016 may be a good choice if you're primarily looking for something with a large screen and extra entertainment features. Most of the sub-$400 laptops being sold on Black Friday have smaller screens and lack many of the entertainment features found in the Toshiba Satellite L675D-S7016.
Visit Notebooks.com's Black Frida y page for more Black Friday laptop deals and what you need to know before you buy a laptop on Black Friday.
Advertisement