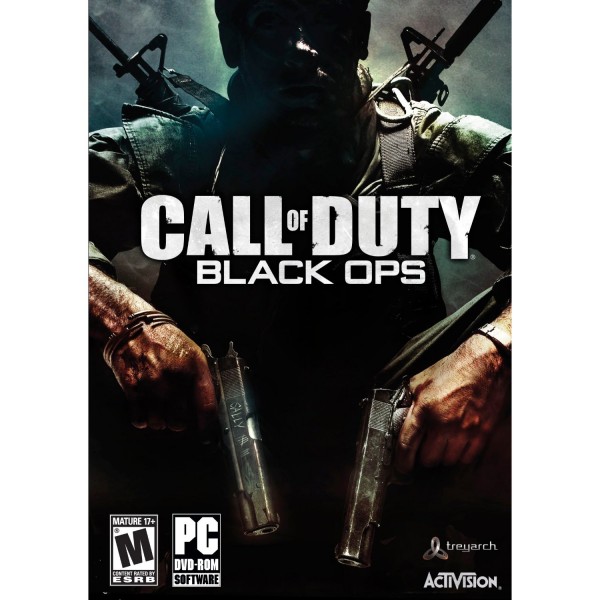 Call of Duty: Black Ops releases today to the delight of many gamers who have been eagerly awaiting the latest version in the Call of Duty Series. This version is made by Treyarch, often known as the "Other" company or "B-Team" that makes Call of Duty games, but according to the early reviews the Bravo company may have pulled off a win with Call of Duty Black Ops.
In Call of Duty: Black Ops you take command of Black Ops soldiers in a cold war setting that will jump between snow covered mountains in the controlled by Soviet forces to Vietnam and SouthEast Asia where jungles are the death de jour.
Players can tackle a single player campaign, or come online for Co-Op play (including Zombie mode) as well as an online multiplayer component that should deliver weeks of gameplay.
Call of Duty: Black Ops is available for the Xbox 360, PlayStation 3, PC, Wii and Nintendo DS. In addition to the standard version which is $59.99 on PC, Xbox 360 and PS3 there are also two special editions — Hardened and Prestige which come with a collection of extras.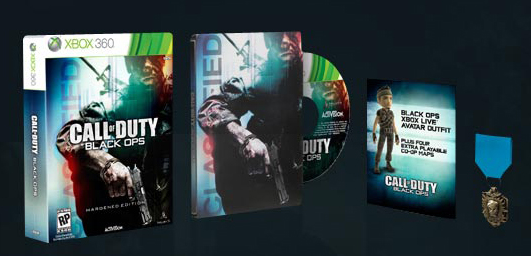 Call of Duty: Black Ops Hardened edition is $79.99 and comes with the following extras:
Call of Duty: Black Ops full game
Premium, special-edition SteelBook™ case
Limited edition Black Ops collector's medal w/display case
4 additional co-op maps not included in the standard edition of the game
Special Black Ops Xbox Live or PlayStation Home avatar outfit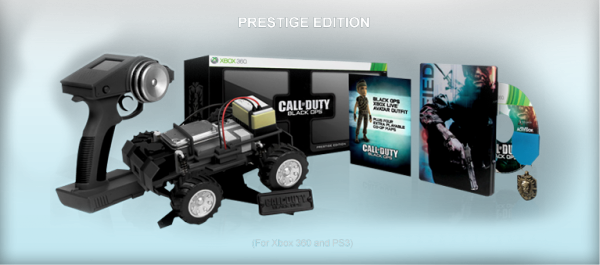 Call of Duty: Black Ops Prestige edition is $149.99 and comes with everything in the Hardened edition and the following extras:
Video & audio sent wirelessly to remote transmitter (200 ft. range)
2″ backlit TFT 220 x176 color screen built into RC controller
Digital proportional steering and throttle
Independent suspension
High and low speed settings
If you plan to play Call of Duty Black Ops on the PC you'll need a powerful system to get the best experience. You'll find the minimum system requirements for Call of Duty Black Ops listed below, if you're system doesn't meet or exceed these you should stick with a console version of the game. PC Gamers can purchase the disk from Amazon or as a download through Steam and other outlets.
OS: Windows® Vista / XP / 7
Processor: Intel® Core™2 Duo E6600 or AMD Phenom™ X3 8750 or better
Memory: 2GB
Graphics: Shader 3.0 or better 256MB NVIDIA® GeForce® 8600GT / ATI Radeon® X1950Pro or better
DirectX®: DirectX® 9.0c
Hard Drive: 12GB*
Sound: DirectX® 9.0c-compatible
Call of Duty: Black Ops Review Roundup (Reviews):
According to many reviews. Call of Duty Black Ops has lived up to the hype, earning a 90 on Metacritic. We've rounded up a collection of Call of Duty Black Ops reviews and videos below to help you decide if the game should be on your holiday wish list.
Call of Duty Black Ops Review – Official Xbox Magazine – UK: "It's also a good excuse for the art team to really show off what it can do. Black Ops is visually dense with detail, as you'd expect from a Call of Duty game, but it has an unpredictable variety that shows Treyarch has really kicked on since the days of its grey-Russia-brown-Japan World at War outing.
Whether it's a gorgeous orange sky in Khe Sanh that's stuffed with helicopters while Vietcong swarm towards you or a cracked, frozen ship that towers above you in icy Russia, you end up almost as eager to see what's next as you are to unravel the mystery." – Ryan King
Call of Duty: Black Ops Multiplayer Footage
Call of Duty Black Ops Review – The Broadest Call So Far – GameInformer: "For my money, Treyarch has crafted the finest Call of Duty multiplayer game to date. The maps are fantastic and offer great variety in size, aesthetics, verticality, and paths. The core design is largely unchanged; it features the same modes, perks, and a similar arsenal to Modern Warfare. The action is as responsive, technically impressive, and engrossing as it has been since Infinity Ward pioneered it three years ago. However, Treyarch has made a ton of improvements in the margins. Unlocking new perks in the order you want rather than a pre-set sequence is just the start." – Adam Biessener
Call of Duty Black Ops: GameSpot Multiplayer footage
Call of Duty Black Ops review: The Great Battle – Joystiq: "The campaign's pacing is as uneven as it is thuggish — gameplay segments sometimes end before it seems they're meant to, and there's one particular segment that will make you wonder if the developers ever playtested it themselves (made even worse by your fellow soldiers' overtuned propensity to call out enemy placement — yes guys, I know they're "in the trenchline"). Regardless, by the end of the game,Black Ops has built up a solid narrative head of steam, perhaps thanks to the aid of David S. Goyer." – Mike Schramm
Call of Duty Black Ops Review – IGN: "Black Ops is not just a linear game, but sometimes feels like it's on autopilot. Just one example is when you "guide" the takeoff of an SR-71 Blackbird. I tried to not pull back on the flight stick when the game told me to, just to see if there was any other alternative to taking off, but the Blackbird lifted off on its own.
The artificial intelligence of both your friendly soldiers and the enemies you face is pretty poor. Both friendly and enemy soldiers behave like fools for most of the campaign. I once watched a friendly shoot the back of an armored car that he was using for cover for a solid 20 seconds." – Nate Ahearn
Call of Duty Black Ops Review – GamePro: "As a reviewer, I try hard to avoid hyperbole, but it's difficult not to call Black Ops the 'best Call of Duty ever' simply because it's the ultimate refinement of the franchise formula. With an interesting single-player narrative and a multiplayer component brimming over with content, it's an easy recommendation for a fanbase looking for the next big thing." – Tae K. Kim
Call of Duty Black Ops Review – 1up.com: "It's admirable to see just how much stuff there is in Call of Duty: Black Ops. Despite the removal of campaign co-op or a mode comparable to MW2's Spec Ops mode, the sheer amount of content is almost staggering. In addition to the campaign, all the regular multiplayer modes, the Wager Match mode, the Theater, character and weapon customization, splitscreen multiplayer options, and Zombies, Treyarch even threw in a full working version of the original Zork. And if you have the hardware, you can play the whole game in 3D (not for me, as my glasses-wearing eyes end up producing a nasty headache after prolonged 3D)." – Thierry Ngyuyen
Advertisement