Kensington announced  a new line of iPhone 4 compatible accessories, including two new car mounts to securely hold iPhone 4s while in vehicles.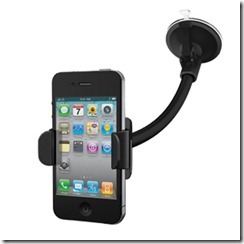 The first is the simple Kensington Quick Release Car Mount. This mount will hold the iPhone 4 even if it's in a case. It has a flexible arm for positioning the iPhone and promises to hold the phone in place reliably even on bumpy roads. It comes with two ways of mounting the phone in a vehicle a windshield suction mount or a vent mount.
Below is a video demonstration of the Quick Release Car Mount:
Kensington Quick Release Car Mount
As you can see the mount can hold the phone in both landscape and portrait mode. It seems to quickly release the phone as the name says. And there is a nice holder for the charging dock connector for when the phone is not in the mount. The mount grabs the phone on either side making it compatible with all of the iPhone and iPod Touch models. The mount retails for $29.99.
The second, and more advanced, mount is the Kensington SoundWave Sound Amplifying Car Mount. This mount works like the previous one in that it holds the iPhone with either a windshield or vent mount. It also pivots so the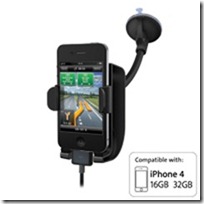 iPhone can be viewed in portrait or landscape mode. It will hold the iPhone even if it is in a case. It comes with a cable holder for when the phone isn't in the mount. One outstanding feature is that it amplifies the sound. Kensington promises that it will double the volume without additional drain on the battery. There will be a connector for the iPhone that will be placed in the mount. The phone is then slid down onto the connector so the sound comes through the mount, not the vehicle's sound system. The mount is also compatible with previous generations of the iPhone, but does not say if it will work with the iPod Touch. It retails for $39.99.
Kensington SoundWave Sound Amplifying Car Mount
Advertisement