Research In Motion (RIM) officially unveiled the BlackBerry Torch today. This is the company's first phone to feature BlackBerry 6, RIM's latest mobile operating system. The BlackBerry Torch will be available  for $199 beginning on August 12   at AT&T,  Best Buy, Wal-Mart and RadioShack stores. it will also be available  online at ATT.com/blacberrytorch.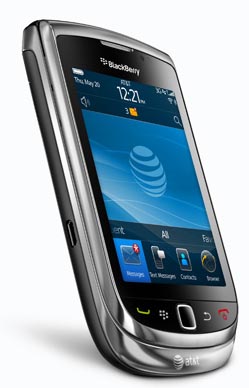 Like many other smartphones, the new  BlackBerry torch has a large touchscreen display. But in addition, it features a full  QWERTY slide out keyboard.  Many smartphone users prefer a physical keyboard, finding it easier to type long messages and  edit documents.  There is plenty of room for multimedia files thanks to 4 GB of built in memory  and a 4 GB microSD memory card.  with 8 GB of storage isn't enough for you, you can always swap  out the 4 GB microSD  for a larger one (up to 32 GB).
Blackberry devices are often thought of as business devices, but the BlackBerry Torch 9800  has a lot of multimedia and social networking  features.  it has support for Facebook, twitter, MySpace and instant messaging. There is a new user interface for browsing and playing music and movies. In addition there is a dedicated YouTube app and Podcasts app.   there is also a new and improved web browser that supports multi-touch gestures.
The $199 price tag requires a two-year AT&T contract.  consumers can choose between a $15 per month and $25 per month 3G data plan. The  more affordable plan only includes 200 MB, while that and $25 per month plan includes 2 GB.  Access to AT&T's 20,000 wi-fi hotspots is included.
If you're currently  shopping for a BlackBerry,  you might want to wait until the BlackBerry Torch  hits store shelves so you can check it out.  Older models  run a relatively obsolete software.
BlackBerry Torch 9800 Specs
Dimensions 4.4″ (5.8″ open) x 2.4″ x .57″ and weighing 5.68 ounces
3.2″ 360×480 capacitive touch screen display
35 key full QWERTY backlit slide-out keyboard
Optical trackpad
624 Mhz processor with 512 MB Flash memory
4 GB built-in memory storage plus a microSD/SDHD memory card slot that supports up to 32 GB cards; a 4 GB card is included giving users 8 GB of storage out-of-the-box
5 MP camera with flash, continuous auto focus, image stabilization, scene modes, geo-tagging and zoom, as well as video recording at up to 640×480 resolution
Built-in GPS for location-based applications and geo-tagging
Wi-Fi® (802.11 b/g/n); qualifying smartphone customers can enjoy seamless connectivity to over 20,000 AT&T Wi-Fi hotspots at no additional cost
3.5mm stereo headset jack
Premium phone features, including voice activated dialing, speakerphone and Bluetooth® (2.1) with support for hands-free headsets, stereo headsets, car kits (including systems that support the Bluetooth Message Access Profile standard) and other Bluetooth accessories
New BlackBerry® Desktop Software 6 with integrated media sync for easily syncing music, photos and videos**. It also includes Wi-Fi Music Sync, a unique feature that allows users to view their entire iTunes® or Windows Media® Player music libraries from their BlackBerry smartphone, create and edit playlists as well as select music for download. When in range of their home Wi-Fi network (or via USB), the changes are synced with iTunes or Windows Media Player and the songs are automatically downloaded to the smartphone
Tri-band HSDPA (3G) and quad-band EDGE support for the option of voice service in more than 220 countries, data service in more than 195 countries and 3G connectivity in more than 125 countries, including Japan and South Korea
Removable, rechargeable 1300 mAhr battery that provides approximately 5.8 hours of talk time on 3G networks or 30 hours of audio playback or 6 hours of video playback
Advertisement