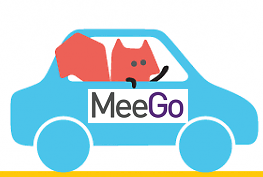 In the near future the dashboard of our cars will become an even greater source of information and entertainment, or as the industry calls it Infotainment. Last week the GENIVI Alliance and The Linux Foundation announced that the MeeGo would power the infotainment centers in upcoming vehicles from the BMW Group, GM and others.
These Infotainment devices will be the next generation of the tools we see in cars today such as the Ford Taurus with Microsoft SYNC we recently tested. Though Jim Zemlin, executive director of The Linux Foundation told Notebooks.com in a phone interview that, "You ain't seen nothing yet!" adding, "If you thought SYNC was cool, this stuff is going to blow you away."
MeeGo is an open source platform that brings together Intel's Moblin and Nokia's Meamo to form a new platform that is designed for smartphones, netbooks, tablets, mediaphones, connected TVs and In-Vehicle Infotainment systems. These devices will make use of the MeeGo platform to make it possible for the driver and passengers of a vehicle to interact with the car in new and exciting ways for entertainment, navigation and other connected services.
Zemlin wouldn't provide specific uses but it's safe to say that when vehicles with MeeGo hit the market you will experience an app filled, connected driving experience that we are just now beginning to scratch the surface of.
Speaking as to why the GENIVI, which represents many major players in the automobile industry, chose the Linux-based MeeGo over a proprietary or closed source tool Zemlin pointed to the long life cycle of cars, which can span 20 years of support. Zemlin reports that the industry "scuttlebutt" is, "Open source just makes so sense in terms of being able to provide a shared long-term support model and being able to have subsequent innovation of over the life-cycle of a car."
While you may be thinking, "Isn't Linux something that geeks use?", you may be surprised to learn that you're living in a Linux powered world.
In addition to powering the biggest stock exchanges in the world Linux is already in your home and life. Before we had to cut off Zemlin he listed the following products that are powered by Linux; Google, Facebook, super computers, Android phones, TiVo, Sonos music systems, digital meter readers, the Amazon Kindle, ATMs, Sony cameras, the PlayStation 3 — and the list goes on.
It may still be a year or two before we see MeeGo driven cars sitting on the lot of dealerships across the country but when they arrive we may be taking our smartphones, tablets and notebooks on our next car shopping trip; and not just to help you save money.
Advertisement