Samsung recently released a new notebook that college students should consider looking into. The Samsung Q430-11 has a lot of features that are somewhat difficult to find in the same price range.
According to CNet, which reviewed the Samsung  Q430, this notebook has the build quality of laptops twice its price. The display lid is made of a black aluminum and the keyboard deck is brushed aluminum. The Q430 sports a 14-inch edge-t0-edge glass LED-backlit display. These attributes in combination with the 1.3″ thick notebook's island-style keyboard give the Q430 a premium look and feel.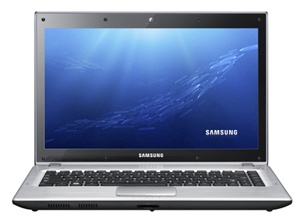 The Samsung Q430is powerful enough for everything most students will throw at it. With a 2.4GHz Intel Core i5 processor, 4GB of RAM, and a NVIDIA GeForce GT 310 M graphics engine with 512MB of memory, the Q430 should provide more than adequate performance on multimedia applications as well as gaming.
Samsung Q430 Full Specifications:
14-inch HD LED-backlit LCD display (16:9 aspect ratio)
2.4GHz Intel Core i5-450 processor
NVIDIA GeForce GT 310 M with 512MB memory
4GB of RAM
500GB HDD
802.11b/g/n WiFi
Three USB 2.0 ports
HDMI out port
VGA out port
3-in-1 card slot
4-hour battery life
Windows 7
In CNET's video coverage, Scott Stein notes that the touchpad is nothing special and could stand to be a little bit larger. Also, unlike the Samsung R580, which was similarly priced, the Q430 lacks a Blu-Ray drive as well as a little bit of screen real estate. For CNET's full video coverage of Samsung's Q430 notebook in HD, click here.
The Samsung Q430, which would be well-suited to many college students' needs, is currently available in the US from many electronics retailers. Best Buy is offering the new Samsung Q430-11 notebook for $829.
Advertisement