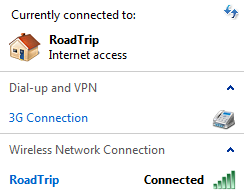 After a long day of travel, especially connected working on the go travel, it's important to recharge your gadgets and recharge yourself as well.
We've just checked into our, booked at $45 3-star Priceline hotel, and need to recharge the gadgets we've been playing with and working on.
While the hotel we are in has a very lovely room, it doesn't have enough outlets to manage all my gear which is why I like the Kensington 4 Port USB charger. It can handle my phone, my iPad, my wife's phone and still have space for a random MP3 player.
As far as relaxing goes, for this geek it usually includes WiFi. Hotel WiFi remains a paradox. The higher quality the hotel, the more they charge to get online but I didn't even have to bother checking what the daily fee was since the CradlePoint PHS300 and Sprint USB modem has out room all set to get online including our computers and my iPad; it can even pull in pictures off my wife's Eye-Fi card.
We still have 10 hours ahead of us tomorrow so it's time to call it a night. The rest of the roadtrip technology held up well during travel. Even with a glossy screen the Portege R705 worked out just right in the car and the massaging seat bottoms and backs left us feeling like we haven't been sitting all day. As for SYNC, we have paired two devices and after a few minutes of learning how to use the system and how to talk correctly to SYNC, it was easy to bounce between bluetooth audio on our phones; the only downside was that the Sirius radio subscription was not activated.
Advertisement