BlackBerry is giving a sneak peek into its new software update, BlackBerry 6. The new mobile software is expected to be released later this summer. The update adds a lot of new features never before seen by BlackBerry users.
First announced at WES 2010, BlackBerry 6 is a very significant software update with many new features. Below is the video that was shown at WES 2010.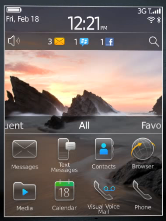 Sporting a new fluid user interface, BlackBerry 6 features:
Universal search
An enhanced media interface
Social feeds
An updated BlackBerry Messenger
Simultaneous posting to social networking sites
A richer web browser powered by WebKit
Ability to add specific contacts to the home screen for easy access
Context-sensitive pop-up menus
BlackBerry 6 is geared towards business professionals and average consumers alike. So far, all video demonstrations have shown a touchscreen interface, leading us to believe that BlackBerry may be shying away from their classic models, such as the Curve and the Bold, to models similar to the Storm. Below is the latest video demonstration of BlackBerry 6 from BlackBerry.
Via BlackBerry Blog
Advertisement