Power users will want to take notice of Acer's refresh of a series packed with power. The Acer Aspire AS8943G series may have a forgettable name, but it does have some memorable specs. First, look at the size of this 18.4 display. At that size the term mobile" only technically applies to this behemoth. It is a desktop replacement; however it is sleeker than its predecessor, the AS8940. The new Acer Aspire AS8943G is thinner and has an aluminum-like case. that's actually made of a finished resin made to look like aluminum", according to PC Magazine.
The 1080p screen on this notebook is suited for full HD movies. Of course in order to enjoy those, you will need a Blu-ray drive, which you get, along with the Dolby Home Theatre Audio that we recently shared with you. The dedicated sub-woofer should give you those deep bass sounds in your music or movie/game soundtracks. With an HDMI port you can push your entertainment to your HDTV as well.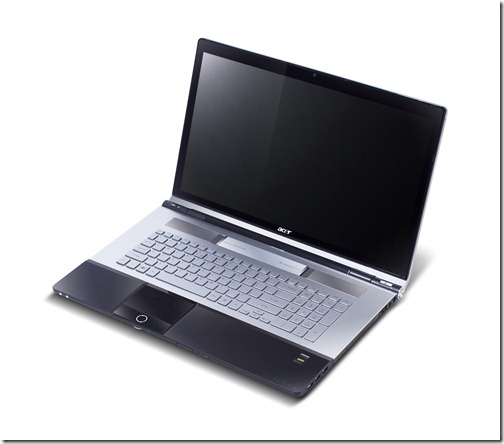 Many users of the AS8943G will be playing games on it, which the internals should support. The notebook  has an Intel Core i7 Quad Core processor with Turbo Boost and either 4 or 8GB of memory. If you want, you can max it out with 16GB.
The ATI Mobility Radeon HD5850 graphics with 1GB of dedicated video RAM is capable of running DirectX 11 games. In other words, it should be able to handle just about any game on the market today. Of course the AS8943G would also be useful for doing serious video and photo editing.
If you are going to be loading it up with photos, videos, or music, then having one 500GB SATA drive will help. It would be nice if it had a standard 7,200 rpm drive, but apparently that's not the case. If you max that out, this desktop replacement supports a second one as well. Max that out and you will want to hook up an eSATA drive to it. It also comes with Firewire ports as well.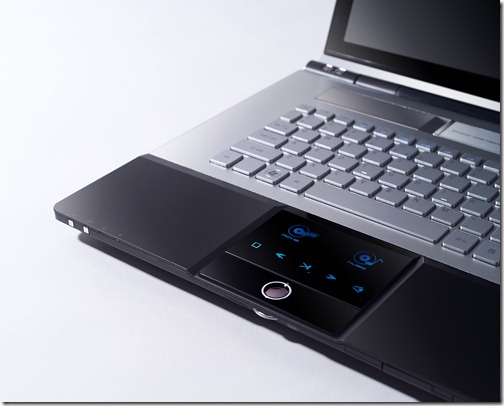 The AS8943G doesn't just have a normal touchpad. It is a dual-mode touchpad with integrated, capacitive touch media controller icons." That means it works as a multi-gesture touchpad, like almost every other new notebook being released today. But it also functions as a media control device with back, forward, play, and stop functions among others.
At the flick of a finger, consumers can go straight to their favorite movies or music. Integrated into the touchpad, the backlit media console icons glow underneath the pad, providing a clean simplistic design. In addition, a convenient scrolling volume wheel directly under the touchpad makes it easy to control volume levels. (Acer press release)
They keyboard is a chicklet style without the backlight available on its predecessor, the AS8940. This was a cost cutting decision according to one reviewer.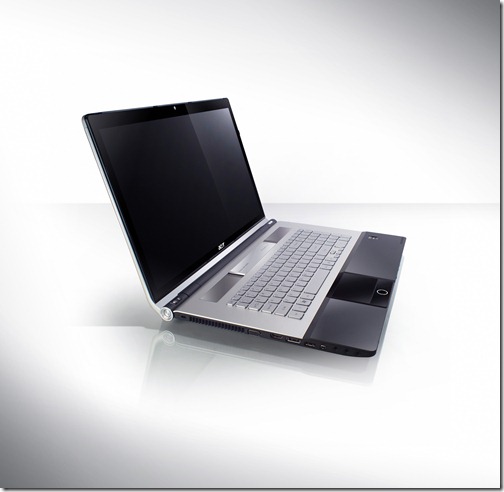 Other attractive goodies include 802.11b/g/n wireless and a Gigabit Ethernet port. Anything less on a powerful system like this would be a shame. It also has Bluetooth, a 1.3 megapixel webcam and an integrated fingerprint reader for both security and quick login.
To get all this in a single package you might expect to pay over $1,500. You would be right. All that power doesn't come cheap. The retail starting price is $1,549.99 for the Acer Aspire AS8943G-6190 and the AS8943G-6782. You can find the former at Amazon for that price.
What the press release doesn't tell you is how much you will need to pay your chiropractor after carrying this beast around all day. You'd think that this one must be at least a ten pounder. But it is actually just 8.2 pounds. That's heavy but for an 18.4-inch desktop replacement it's not too heavy.
Advertisement