Apple's earlier announcement of the new iPhone 4 has generated so much interest that ATTwireless.com was knocked offline Monday evening. Millions of current AT&T subscribers rushed to check their iPhone eligibility following Steve Job's announcement of the fourth generation iPhone.
As of 8:10pm PST, visiting ATTWireless.com resulted in a mostly blank web page that read:
"Maineneance in Progress:AT&T is continually working to improve our internet site for our customers. As part of this ongoing effort, we are currently doing maintenance. We apologize for this inconvenience and ask that you please try back again later."
AT&T is offering some iPhone owners early upgrade options, well before the end of their current two year contracts. Many iPhone users received a text message today notifying them of their early-upgrade eligibility.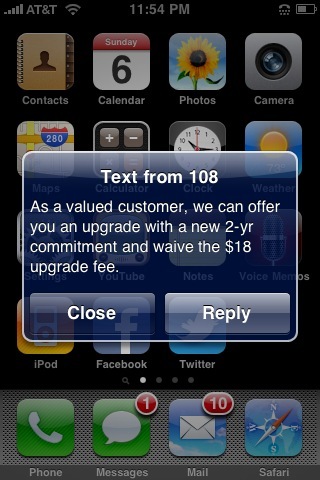 The upgrade eligibility is a welcome surprise for many iPhone owners, but it is causing some confusion. AT&T has not stated publicly cutoff dates and other rules for early upgrade eligibility. Some iPhone 3GS owners on family plans are reporting that the primary line is eligible for an early upgrade, but the other lines are not. The text messages from AT&T pointed to an upgrade that waived the customary $18 upgrade fee. The discounted price of the iPhone 4 is $199 (16GB) or $299 (32GB).
Those hoping to access ATTWireless.com before deciding whether or not to purchase an iPhone 4 shouldn't worry about this outage. The iPhone 4 does not go on sale until June 15, which leaves a week to access the site and figure things out.
You can learn more about the iPhone 4 here and the total cost of buying an iPhone 4 here.
UPDATE: As of 11pm PST, ATTWireless.com is back online and account information is accessible.
Advertisement