Apple's getting set to announce the 4th generation iPhone on Monday at the World Wide Developers Conference in San Francisco. If you already have an iPhone 3G or iPhone 3GS you can minimize (or eliminate) the cost of upgrading to the new iPhone.
Pricing for the new iPhone will officially be announced on Monday, but if you're serious about upgrading you should act now. There will likely be at least two new iPhone models. If Apple holds true to its current pricing structure, they'll be priced between $199 and $299 with a two-year AT&T contract.
Check Your iPhone Upgrade Eligibility
To minimize the cost of upgrading from an iPhone 3G or 3GS, you'll want to make sure you're eligible for the fully subsidized price by logging into your ATTWireless.com account. There, you can shop for phones and see when you're eligible for a full iPhone upgrade.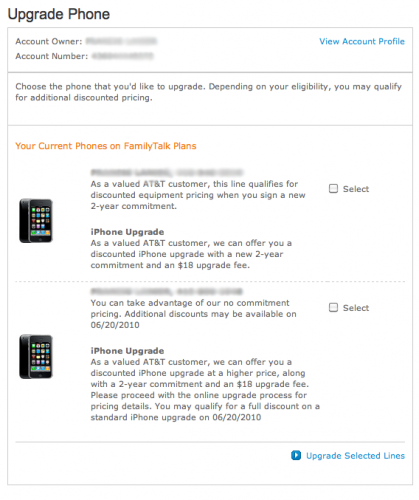 Technically, AT&T customers are only eligible for fully subsidized iPhone prices every two years. However, AT&T's offering many customers a discounted iPhone upgrade this month even though their original two-year contracts are far from over. Above is an image from my ATTWireless.com account that shows that my wife's iPhone 3G can already be upgraded with a full discount. My iPhone 3GS can be upgraded with a full discount on June 20. Without the full discount, iPhones cost hundreds of dollars more than the advertised prices.
Sell Your iPhone 3G or iPhone 3GS
Once you've confirmed that you're eligible for a discounted iPhone upgrade it's time to sell your old iPhone. Now we don't know exactly how much the new iPhone is going to cost or when it will exactly ship, but that's ok. Instead of selling your iPhone on eBay or Craigslist, head over to Gazelle.com.
Gazelle buys used phones, gadgets and computers. Instead of wondering what you'll be able to get on eBay, Gazelle will give you a firm price quote and send you a pre-paid shipping box to send in your old iPhone. As of today (6/4/10), Gazelle is offering enough to recoup a substantial portion of  the original cost of an iPhone.
In some cases, Gazelle will pay more than what your iPhone originally cost. For example, Gazelle is currently offering $304 for any 32GB iPhone 3GS  in perfect condition.
My 32GB iPhone 3GS has a few minor scuffs on the bezel, so I told Gazelle it was in good condition. The company offered me $272 for a phone that I paid $299 for almost a year ago. If the new iPhone is priced at $299 it will only cost me $27 to upgrade plus tax. If the new iPhone is priced at $199 (as some expect so it can compete with other recently introduced phones), I'll make $73 by upgrading.
My wife's iPhone 3G is almost two years old and she said she wants a new iPhone. Gazelle offered her $126 for it, which is a little less than half of the $299 we originally paid.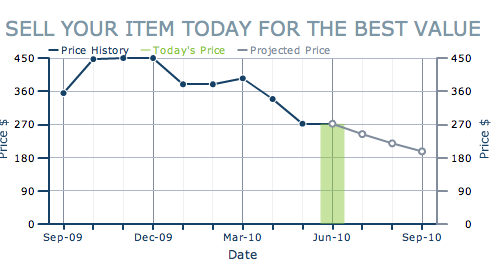 Timing is everything when sending to Gazelle. When the new iPhone is announced next week Gazelle will drop its offers for old iPhones substantially. In fact, the company has a handy chart that shows what devices are estimated to be worth in the coming months.  But if Apple decides to sell the new iPhone for less than what the iPhone 3GS originally sold for you can expect Gazelle's offers for the iPhone to plummet.
I've already 'sold' our iPhones to Gazelle and have 30 days to deliver them to Gazelle's offices. This should give me enough time to order (and receive) a pair of new iPhones. If I change my mind for one reason or another after Apple's official announcement I don't have to sent them into Gazelle and the sale will automatically be cancelled.
If all goes as planned, I'll receive a check for the quoted amounts sometime in July. If you prefer, Gazelle will send your money via PayPal. You can also opt for an Amazon.com gift card worth 105% of the quoted price.
Advertisement