Do you spend lot of time Instant Messaging friends, family and co-workers? Did you know that your chat text can be hacked or seen by someone other than the person you are chatting with? A lot of people assume that their chat session is secure and encrypted, but this is not always the case.
It's even easier for someone to see what you're chatting about if you are using IM at cyber café, work area or on an open network. Tools like MSN-sniffer can easily display MSN chat text for other users connected to the same network, and there are many others for different chat programs. Even if you are chatting from home, there is a chance that someone could be snooping on your chat sessions. Thankfully, it is pretty easy to protect your chats from prying eyes, keep reading to learn how.
If you want to make sure the only person who sees your chat text is the person you are chatting with you should look for an option in your chat program to turn on encryption. Most often, this will be in the settings menu labeled, 'Encrypt chat session'. This may sound very technical but believe me, it's not. Nowadays most IM programs include some form of chat session encryption that can be turned on with a few mouse clicks.
But what if your favorite IM client still doesn't support encryption? Don't worry! There are plenty of free programs to encrypt your instant messaging sessions.
Examples of free chat encryption software include:
BitDefender chat encryption: BitDefender chat encryption software keeps your instant messages safe from hacking through a simple and automatic encryption process. In order to use BitDefender you'll need to make sure that the person you are chatting with has also installed BitDefender. BitDefender chat encryption works on Yahoo messenger and MSN messenger.
Features:
When conversation is initiated, BitDefender starts the encryption process automatically.
Top level encryption: BitDefender makes sure that your contact is the only one who can read the messages.
BitDefender is free to download.
Visit BitDefender site for more information and to download the tool.
Simp Lite: Simp Lite is another free alternative to encrypt your chat session. Simp Lite is free version of the Simp product line. Simp Lite supports to 4 different messenger protocols including; Yahoo messenger, MSN, ICQ/AOL messenger (AIM) and Jabber/Google talk.
The limitation of Simp Lite is that you have to use separate software with each IM client. So if you want to use Simp lite with Yahoo Messenger you have to use Simp Lite for Yahoo Messenger. Likewise you would need the correct version for each of the other supported chat programs. Additionally, only one of these versions may be running at a time so if you chat on multiple networks you may want to look at a paid version of Simp.
Features:
Can handle encrypted and unencrypted chat
Available for 4 different Instant Messaging protocols.
Encrypt conversation using state-of-the-art technology.
Please visit Simp Lite site for more information or download Simp Lite software for your chat program from the following links:
IMCrypto: IMCrypto is a free application which encrypts your chat session and lets you establish secure instant messenger connections by using a private and public key. In order to use IMCrypto, the person you are chatting with will also need to install it.
How it works:
Launch IMCrypto.
Launch your instant messenger.
Choose the person in your contact list that you want to communicate securely with and double-click to start conversation. Note: IMCrypto must be installed on both sides to provide secure conversation.
On the left side of the chat window you will see the IMCrypto Toolbar.
Click on "Quick Start" button.
The person you want to chat with will receive a message with the following prompt: "This contact wants to establish IMCrypto secure conversation with you. Accept?" He should click "Yes".
Automatic public key exchange occurs and the contact is stored into IMCrypto contacts database which can be accessed from the IMCrypto Control Center.
Now your messages are encrypted and the conversation is secure.
IMCrypto is good software to encrypt your chat sessions with, but the free version has some limitations such as being limited to one instant messaging application and only being able to store one contact in the IMCrypto secure database at a time. The full IMCrypto Free features are shown below.
Please visit the IMCrypto site for more information.
Use Pidgin as your Instant Messenger: Pidgin is open source application that is very easy and simple to use. It supports almost all popular chat clients like AIM, Google talk, Yahoo messenger, MSN, Groupwise and others and there are several plugins that work with Pidgin to encrypt your chat sessions.
Pidgin encryption plugins:
Pidgin-Encryption:  This third party free plug-in comes with following features.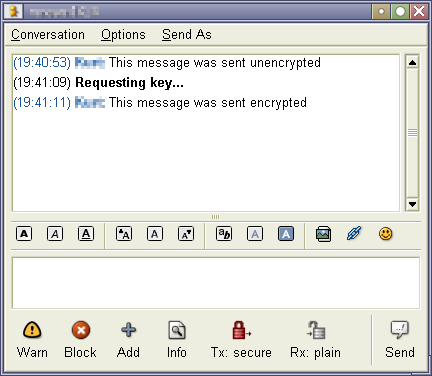 Features:
Automatically creates a public/private key pair for you.
Automatically transmits your public key to other users.
Supports 512 – 4096 bit keys.
Saves keys of known users, and warns you if their public key has changed.
Embeds all encryption and keys inside HTML. This means if the other user doesn't have the plug-in they will get a little message telling them about the plug-in instead of a screen full of garbage.
Stores keys in human readable files in your .gaim/.pidgin directory, in case you ever need to copy/edit them by hand. Which you really shouldn't have to do.
Automatically recognizes if you are chatting with someone who has the plug-in- see the Preferences dialog.
Available for the Windows version of Pidgin.
Please visit pidgin-encrypt page for more information.
Off-the-Record messaging: This plugin for Pidgin has following features:
Features:
No one else can read your instant messages.
If you lose control of your private keys, no previous conversation is compromised.
During a conversation, your correspondent is assured the messages he sees are authentic and unmodified.
Please visit cypherpunks.ca for more information.
Pidgin-Paranoia: This free third party plugin for Pidgin also encrypts and secures your chat sessions. Pidgin-Paranoia works on Debian based Linux systems like the popular Ubuntu operating system and has many advanced useful features. For more information and a full list of features please visit the  Pidgin-Paranoia site.
Advertisement