Is your 500 GB notebook drive getting too full? Toshiba to the rescue! The company's announced new 750 GB & 1 TB 2.5″ notebook drives. They are touting the key feature of the 750 GB model (model no. MK7559GSXP) HDD as follows:
Largest areal density at 839.1 Mbit/mm squared and 750 GB capacity.
Better energy efficiency with a reported 14% improvement over Toshiba's 640 GB drive.
Environmentally friendly with no Halogen, less CO2, and compliant with European Union standards.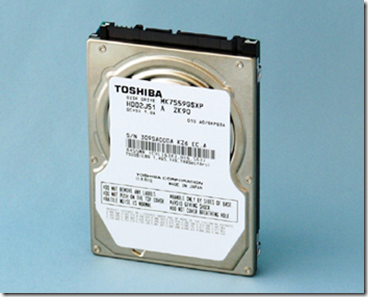 The 1 TB drive (model no. MK1059GSM) while larger, is not as dense as the 750 GB model. It now matches Western Digital's Scorpio Blue model, which also has 1 TB of space. Seagate currently maxes out at 640 GB with its Momentus line as does Samsung with its Spinpoint M7E.
The drives will start shipping in April. Toshiba says the 750 GB model will be the highest density notebook drive available. It will represent the company's first mobile HDD platforms developed with the combined engineering resources from the integration of Fujitsu's HDD business, which Toshiba acquired last fall."
The 1TB model is thicker than most notebook hard drives, which means it won't work as a direct replacement for many notebook drives.
Here are the detailed specs of the two models.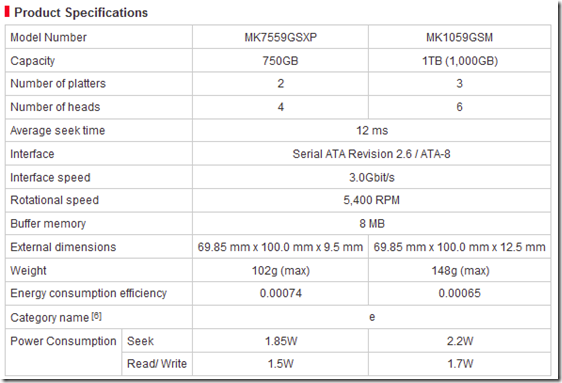 Advertisement