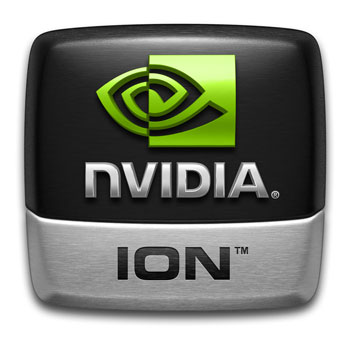 There was already some rumblings about a new version of the NVIDIA ION when the Acer Aspire One 532G netbook was revealed in mid February at MWC, but the company has now officially taken the wraps off of the next gen ION technology which is known, unofficially, as ION 2.
What is the difference between ION and ION2? One major change from the first generation of ION is that ION 2 is a discrete graphics solution which means it will make use of the NVIDIA Optimus technology to switch between ION 2 and whatever Intel graphics processors is built in to your netbook.
According to NVIDIA, by intelligently switching between ION and Intel, the average netbook using this hardware solution should achieve at least 10 hours of battery life while showing a 50% performance boost in direct X 9, runs 15X faster than Intel and offers a boost in Direct X 10 (OPENGL3) performance.
When you are surfing the web or doing regular 2D graphic work these netbooks will use the Intel graphics chip, but when you need more power for HD movies, video games,  Flash 10.1, or CUDA processing; the NVIDIA ION chip will come to life and give the extra performance boost needed to the graphics.
When it comes to which version of the Windows operating system works with ION, NVIDIA is all about Windows 7 Home Premium operating system. According to their research, "56% of netbook buyers are not satisfied with Windows 7 Starter" which tends to come standard on most netbook systems.
The specification on the new ION chipset:
One interesting part of the announcement that should have nettop owners excited is that there will be a 16 core version of the ION2 processor (netbooks will use an 8 core version) that will provide more graphics power to nettops where power use isn't a big issue.
While the Acer Aspire One 532G is the only netbook on the market currently housing the ION2, other vendors will be jumping on the ION2 bandwagon. These products will include: the ASUS 1202PN, ASUS EeeBox 1501, ASUS EeeTop, Lenovo C200 and the Zotac Zbox.
NVIDIA is expecting a wide adoption with almost 30+ devices using ION2 technology by summer of 2010.
Here's the next gen Ion processor in action:
Additional contributions by Josh Smith
Advertisement