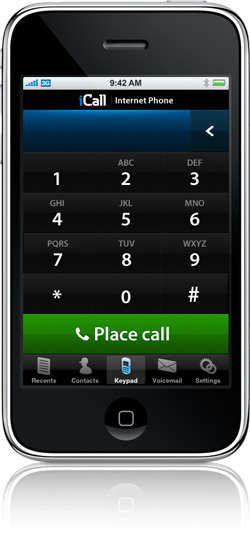 And now for some news that has nothing to do with the iPad…well, not exactly.  It could reflect on the iPad someday, but not today.
Apple has finally decided to fully lift the ban on VOIP on their iPhones and iPod touches.   This is in the wake of the news that Google Voice is now allowed on the iPhone platform, at least via a web browser.
Apple has updated their SDK to allow for developers to make VOIP applications that work over 3G  to run on their platform.  This first company taking advantage of this is iCall.  iCall for the iPhone and iPod Touch is now enabled for unrestricted free local and long distance calling over 3G data networks.   iCall is the first and only VoIP application available for the iPhone platform that allows use over 3G networks.  The application is available via the Apple App store for download.
All I can say is that its about time!  This will only increase Apple's base of customers and make a lot of people happy.  VOIP is the one thing most people would like to use on their iPod Touches, but couldnt due to the restriction.  I know I am going to try it.
Now I said that this may reflect on the iPad.  How/Why?  Well, the iPad runs all iPhone applications.  The iPad has WiFi and 3G.  All you need is a headset that works and well, now the iPad can do VOIP as well.  It has possibilities.
Advertisement