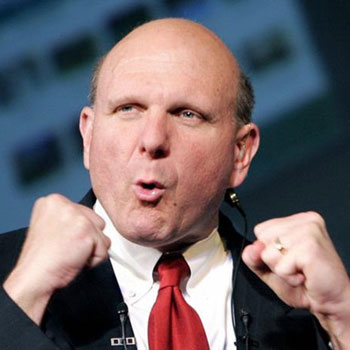 Today was the day.  Today Steve Ballmer got on stage and only said his famous "Developers" rant once.  But, he did manage to say "We Bing" several times.  It was time for a new tagline for him anyway.
Seriously, here at CES, the first keynote speaker was Microsoft CEO Steve Ballmer. Sumocat, from our sister site GottaBeMobile ,live blogged the entire event, but I wanted to add my 2 cents on what was covered:
HD2 smartphone coming out on T-Mobile- nice win for T-Mobile.  They need a new smartphone to hype instead of the Dash.
Yes, I do like Windows 7.  Yes it can do alot.
Bleo e-reader software on Windows 7– nice e-reader software.  I like being able to highlight content and watch videos.  Also, color is a nice feature.  Time for some folks to get version 2.0 of their hardware/software e-readers to do color.
Microsoft Media Room– I see it as the next upgrade to their Media Center/Home Server products.  Its worth it.
Xbox 360 got infinitely cooler with the addition of Game Room for Xbox Live.  I like being able to play my circa 1980s games in the cabinets..in my own custom arcade.  Also, Halo Reach, the saga's prequel.  Rock.
Project Natal- I see the body user interface doing well for the gaming industry, but what about people who dont game?  Show me that benefit too.
On the whole, Microsoft has some big plans for 2010 and it looks like they are taking us along for the ride.
Advertisement