Acer has announced the TravelMate Timeline series of notebooks which is the companies new line of notebooks for businesses. The TravelMate Timeline series includes 3 different models; 8571, 8471 and 8371 which cost between $899 and $999. The focus of this series is a long lasting lightweight notebook and with a 6-cell battery Acer claims the TravelMate series can deliver up to 8 hours of battery life.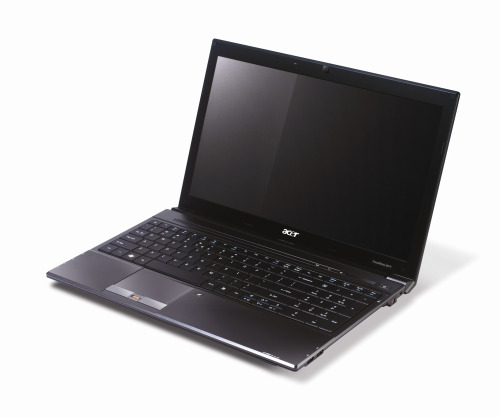 The TravelMate Timeline notebooks come in 13.3, 14.1 to 15.6 screen sizes; include Intel Core 2 Duo processors, fingerprint readers and ship with Windows 7 Professional. Every TravelMate notebook also ships with a Windows XP disc so that business users who wish to run XP can do so easily without any additional expense.
There are currently 5 models available; you can view 3 of the sample configurations below.
Acer TravelMate Timeline TM8571-6465
Intel Core 2 Duo Processor SU9400 (3MB L2 cache, 1.40GHz, 800MHz FSB)
Windows 7 Professional (32-bit) pre-installed; Windows XP Professional CD included
15.6-inch display (1366 x 768)
Intel GM45 Express chipset
Intel Graphics Media Accelerator 4500MHD
4GB (2/2) DDR3 1066 SDRAM
320GB(3) SATA hard drive
Integrated Super-Multi drive
Acer Crystal Eye webcam
5-in-1 digital media card reader
802.11a/b/g/Draft-N WLAN, Bluetooth, gigabit LAN
3 USB 2.0 ports
HDMI port
Multi-gesture touchpad pointing device supporting circular-motion scrolling, pinch-action zoom, page flip
Acer touch-sensitive hotkeys (Touchpad Lock, Backup Manager, PowerSmart)
Standard 6-cell Li-ion (5600 mAh) battery
3.5 lbs.
12.67" (W) x 0.92" to 1.13" (H) x 8.97" (D)
Energy Star® 5.0 compliant
MSRP $999
Acer TravelMate Timeline TM8471-6306
Intel Core 2 Duo Processor SU9400 (3MB L2 cache, 1.40GHz, 800MHz FSB)
Windows 7 Professional (32-bit) pre-installed; Windows XP Professional CD included
14.1-inch display (1366 x 768)
Intel GM45 Express chipset
Intel Graphics Media Accelerator 4500MHD
4GB (2/2) DDR3 1066 SDRAM
320GB(3) SATA hard drive
Integrated Super-Multi drive
Acer Crystal Eye webcam
5-in-1 digital media card reader
802.11a/b/g/Draft-N WLAN, Bluetooth, gigabit LAN
3 USB 2.0 ports
HDMI port
Multi-gesture touchpad pointing device supporting circular-motion scrolling, pinch-action zoom, page flip
Acer touch-sensitive hotkeys (Touchpad Lock, Backup Manager, PowerSmart)
Standard 6-cell Li-ion (5600 mAh) battery
3.5 lbs.
12.67" (W) x 0.92" to 1.13" (H) x 8.97" (D)
Energy Star® 5.0 compliant
MSRP $999
Acer TravelMate Timeline TM8371-6457
Intel Core 2 Duo Processor SU9400 (3MB L2 cache, 1.40GHz, 800MHz FSB)
Windows 7 Professional (32-bit) pre-installed; Windows XP Professional CD included
13.3-inch display (1366 x 768)
Intel GM45 Express chipset
Intel Graphics Media Accelerator 4500MHD
4GB (2/2) DDR3 1066 SDRAM
320GB(3) SATA hard drive
Integrated Super-Multi drive
Acer Crystal Eye webcam
5-in-1 digital media card reader
802.11a/b/g/Draft-N WLAN, Bluetooth, gigabit LAN
3 USB 2.0 ports
HDMI port
Multi-gesture touchpad pointing device supporting circular-motion scrolling, pinch-action zoom, page flip
Acer touch-sensitive hotkeys (Touchpad Lock, Backup Manager, PowerSmart)
Standard 6-cell Li-ion (5600 mAh) battery
3.5 lbs.
12.67" (W) x 0.92" to 1.13" (H) x 8.97" (D)
Energy Star® 5.0 compliant
MSRP $919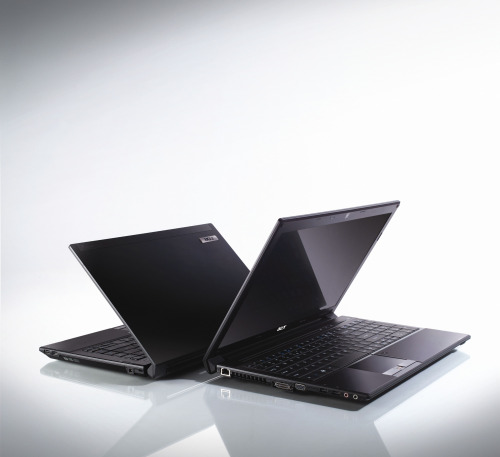 Advertisement