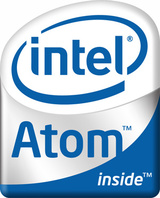 Intel has announced the arrival of its new Atom processors, including the "Pine trail" nettop-centered processors.   They are smaller, more integrated, and more efficient.
From Gizmodo article:
The new chips include the N450 for netbooks and the D410 and D510 for nettops (or, as Intel kept calling them, "entry-level desktops"). The big news is that they've integrated the graphics and memory controller into the processor, which results in a much smaller footprint (and in turn, could mean smaller devices).
Its still the same kind of power we have come to expect from Atom processors, only 1.66 mhz for the N450.
In the meantime, two netbook vendors have announced new netbooks designed around the Pine trail processors– MSI and Fujitsu.  MSI has announced two new netbooks, the U130 and U135.  Fujitsu announced the Lifebook MH380. All three look like great utilizations of the processors new features and better battery life.
We are sure to see more information on Pine trail and more announcements from netbook vendors at this year's CES show in Las Vegas.
Advertisement