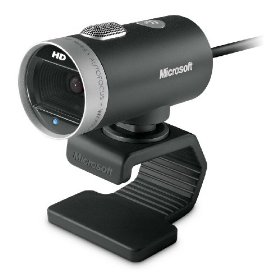 The holidays are a great time for many people simply because they get to see their family. Whether you're traveling 30 miles or trekking 3,000 there's something special about seeing your loved ones. Wouldn't it be great if you could see them all year long? Sure phone calls are fun for connecting with Mom and your sister really enjoyed that, "Sup?" text message you sent last week but wouldn't it be cool to be a bit like the Jetsons and video chat with your friends and family whenever you wanted to?
Video chatting used to be a complex mess of programs, usernames and incompatibilities but nowadays thanks to Skype and the integration of webcams in many notebooks it's incredibly easy. If you already have a webcam in your notebook you are almost ready to start video chatting with your family for free; you just need to download Skype. If you or your family has a desktop or notebook without a webcam don't worry, adding one is cheap and easy.
One of the cool new products from Skype is the Skype Freetalk Connect 2 which you can hear me refer to as the buddy video chat pack on the embedded video below. This 2-pack of cameras and retractable headphone/microphones makes a great gift to yourself and a loved one far away and at $35 is a steal.
This is a great little gift set that even most grandparents would be able to hook up without their "geek" grandson around.
There also many other video chat cameras and accessories that you can purchase if you don't need a 2-pack of cameras.
Webcam Gift Guide:
Like many products you can spend a little or a lot on a webcam. For my day job I picked up an off brand at the local department store for $5 since it isn't heavily used. IF you plan to video chat frequently you should look for a better webcam and at some point invest in a headset. That said I do like webcams with built in microphones because they make chatting with multiple individuals, like grandma and grandpa, easier.
Here are a few options to kick start your search for a webcam.
Affordable:
It's very common, especially during the holidays, to see a low end Logitech or Microsoft Webcam on sale. Staples has had the Logitech QuickCam Express and the Microsoft LifeCam VX-1000 for $9.99 and $14.99 respectively in the past week and you can find similar deals on webcams in this range at most technology stores and Amazon.com.
High Def without breaking the bank:
If you want to use a webcam that can chat in high-def it's still pretty affordable with entries around the $50 mark. The two models, again from Logitech and Microsoft, that catch my eye every time I look at webcams are the $48.99 Microsoft LifeCam Cinema and the $90 Logitech Webcam Pro 9000 models.
No matter what webcam you decide on they are a great gift for keeping in touch with your friends and family year round without limiting yourself to telephone calls, text messages and Facebook.
Advertisement