Ten years ago, the Internet was a small extension of the desktop that was available to a select few. With today's pervasive Internet, the risk are higher, we have seen cases of teenagers and much younger being solicited in chartrooms, over instant messaging and most recently with the advent of popular social networks young children being lured away from home to take part in wrongful activities. Of course, Parents have a greater role to play, and Parental Control's in Windows Vista and 7 is one of the tools there to help them regulate and control their child's experiences on the PC and Internet.
What can you do with Parental Controls?
You can use Parental Controls to help manage how your children use the computer. For example, you can set limits on the hours that your children can use the computer, the types of games they can play, and the programs they can run.
When Parental Controls blocks access to a game or program, notification is displayed that the program has been blocked. Your child can click a link in the notification to request permission for access to that game or program. You can allow access by entering your account information. Lets take a look at setting up Parental Controls in Windows 7.

Click Start, type: Parental

Hit Enter on your Keyboard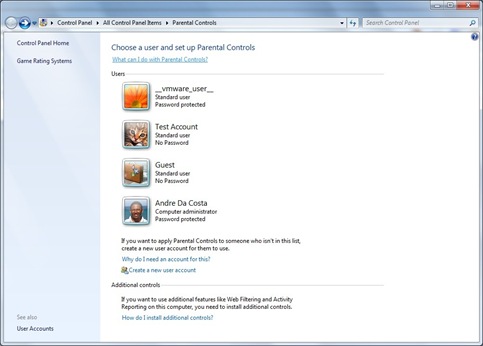 As you can see, the Parental Controls Explorer features a clean design with well explained options. Our intention is to setup Parental Controls on one of the accounts on this computer. You will notice that you can apply Parental Controls only to accounts that are Standard User or Guest. The reason for this is quite logical, of course considering that the Parent Controls are intended for could log in to your account is easy bypass these settings. Also, ensure that your account has a strong password on it. I created a Test Account just for the purposes of this article. Lets click on that to begin.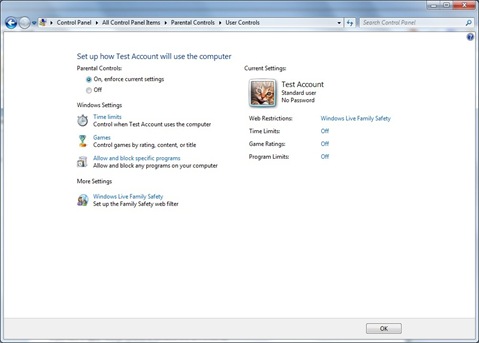 Here you will see the list of settings available for managing this account with Parental Controls, right now, it is turned off. Select the On, enforce current settings radio box and immediately you can start adjusting settings for Time limits, Games, Allowed/blocked programs. If you have the free Windows Live Family Safety add on installed, you can further control your child's experiences on the web, we'll take a look at that a little later in this article.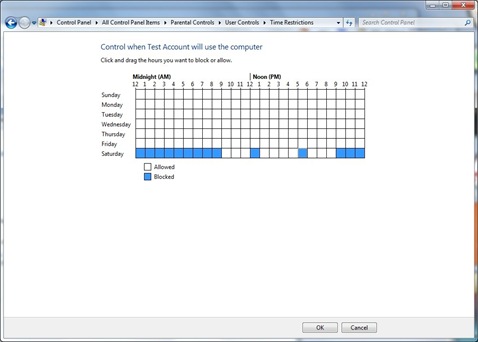 Setting Time Limits

Save your work kids, its time for bed 😉
By default, Game Ratings, Time and Program limits are off. As an uncle, I have witnessed the problems associated with managing a child's time on the PC. My little nephew is always on on the computer playing games at his favorite website's, a bit too much if you ask me. Time limits allow you to set a mandatory schedule for when your child can use the computer. So, instead of coming home from school and going straight to the computer, you can have set schedules by hours or days when they can log on using a simple grid based layout. Its especially useful for school nights when you want your kids to go to bed early or focus on their studies. 🙂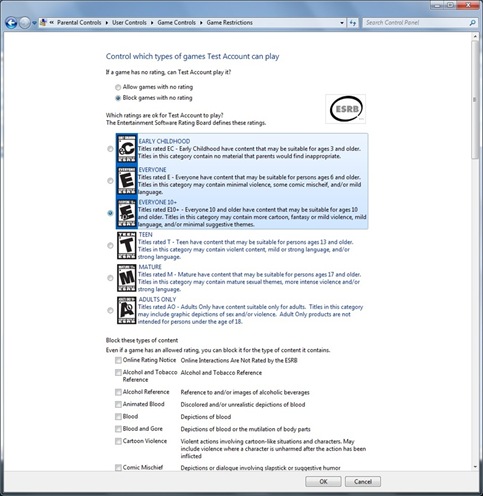 Authorizing what types of games your children can play.
Games
As I noted earlier, games are a favorite past time for my nephew. Controlling which games are allowed is a feature of Parental Controls. Options include by age, content, a combination or all games. Blocking and rating games suitable for children are based on the Entertainment Software and Rating Board, which categorizes those that are already installed on your computer. If you select a game in the Windows 7 Games Explorer, you will notice in the Task Pane a tag describing its appropriate audience, which can range from Early Childhood to Adults only. Windows 7 is very thorough about gaming on all levels, you can even choose to block all types of content with certain subject matters, whether its profanity, blood, alcohol, crude humor and other mature subject matters.
Applications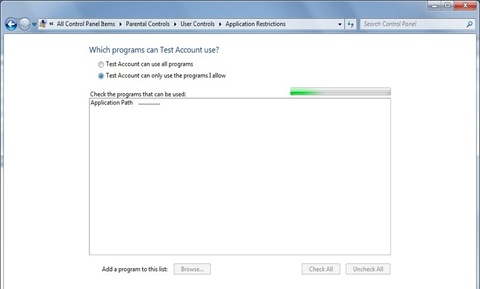 Parental Controls goes beyond games, you can even have certain applications blocked from being used. You might say, I don't have any unsafe applications to begin with! Not really, I am not talking about Microsoft Word here, but programs such as Instant Messaging and even web browsers can be unsafe depending on how they are used. They could be used for communication with strangers or activities you would rather not have your child involved in such as social networks or chartrooms. Hey, if you want your child to go easy on the number crunching in Excel, you can do that too 🙂 When you click the Programs link, you are asked if you would like the account to use all your programs or only programs you allow. If you want to set restrictions, select only use the programs I allow', then click ok.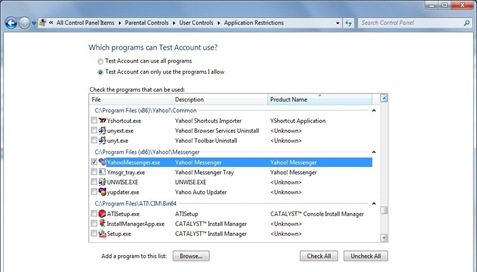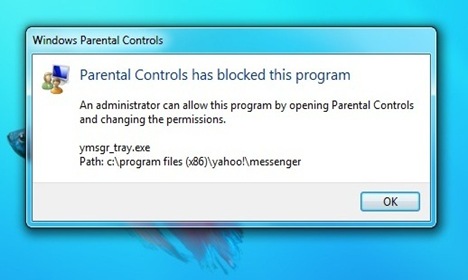 User notified when an application is blocked from use.
A wizard will then scan your PC for all the applications you have installed on the system. Prepare to be a bit overwhelmed, depending on how many applications you have installed, you might see a lot of files listed. Personally, I would have liked if the wizard only scanned what's available in the All Programs group instead of scanning the entire system, leaving the user administering the Parental Controls to browse for unique files or programs they don't want access to by browsing and adding to the program list. I gotta admit though, its a very thorough list.
Windows Live Family Safety
I personally thought that Windows Vista's web filtering capabilities in Parental Controls were not robust enough. There was still the slip of adult content in Internet Explorer or Firefox in addition to reports not reporting the activities at times. Since the release of Windows Live Family Safety, a lot of these problems have been resolved. Parents can appreciate a more thorough and informative experience that spans the desktop and provides tight integration with Mozilla Firefox. Windows users should know that the Activity Reporting interface from Windows Vista is not available and lacks functionality such as integration with the Notification Area, Family Safety instead uses the web interface for this which requires that you sign in to get the latest reports.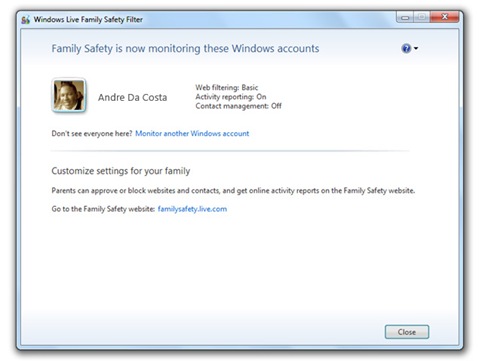 Windows Live Family Safety is installed as a free add on when you install the free Windows Live Essentials (https://download.live.com). With Live Family Safety Filter, you can choose who they communicate with online and generate reports of their online activities, other features include:
Categorize and block unwanted web content for yourself and your family.
Create your own list of allowed or blocked sites.
Monitor Family Safety users' Internet activity.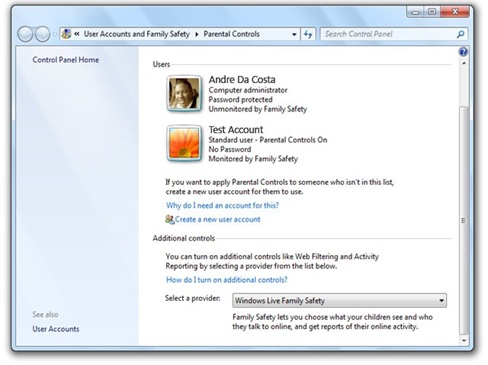 The Windows Live folks recently updated Family Safety featuring tighter integration with Windows user accounts for storing settings. There is no need to have a Windows Live ID for each child who needs their own settings. Windows Live Family Safety scans the Parental Control settings on Windows Vista and Windows 7 providing Parental Controls activity reports from any computer running Windows Vista or Windows 7. These reports include time spent on the computer, browsing history, games and applications run. This monitoring is transparent to the end user, as a notification is displayed once on Windows account login when monitoring is enabled.
Conclusion
Windows 7 and Windows Live provides a cohesive experience for Parents to help manage and provide a safe experience for their Child on the PC and the Internet. Of course, you as a parent must play a significant role to help implement these tools. A tip I would offer parents is to make sure you are the Administrator of the computer. Kids these days are extremely computer savvy, so its best you restrict your child's account to a limited user so your child does not change settings in the User Accounts Control Panel or turn the tables on you. 🙂
Resources
Advertisement