In less than a few minutes. Newegg will be launching its online Black Friday Sale Event. You can grab the full list of products available at Newegg's Facebook page; I'll be evaluating the notebooks deals below as a follow up to Josh's earlier Newegg post. The highlight from the roundup include a selection of netbooks for under $200.00 and a few discounted notebook computers. Most of the deals go live at 3PM PST (6 PM EST) today, November 25 but several are resevered until 6AM PST on Friday, November 27.

UPDATE 1: Shortly after the sale went live, the Gateway Netbooks sold out. Keep checking back periodically to see if they come back in stock!
UPDATE 2: It appears some of the below deals haven't gone live yet and are going to become available on November 27th. These deals are distinguished below their headers.
Gateway Red/NightSky Black 10.1″ Netbook: $199.99
2 Gateway netbooks (model numbers LT2021u and LT2022u) are both selling for $199.99, about $100 below their normal retail prices. The computers have exactly the same specifications- the only difference is their colors.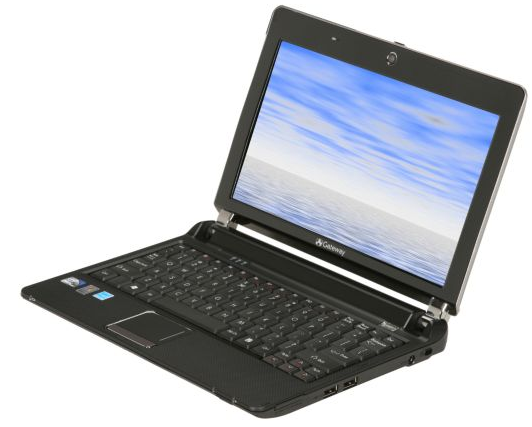 The LT2021u is Red while the LT2022u is NightSky Black. These computers are great for mobile users and are extremely portable because of their slim design and 10.1″ screens. Check the specifications for these two computers below:
Gateway LT2021u and LT2022u specifications:
Brand
Gateway
Model
LT2021u/LT2022u
Product Height
1.03 inches
Product Width
10.17 inches
Product Depth
7.24 inches
Product Weight
2.62 pounds
Connections

RJ-45 LAN (1)
VGA (1)
1/8″ headphones/speakers/line-out (1)
1/8″ microphone (1)
USB 2.0 (3)

Input Device
Standard Keyboard, Multi-Gesture Touchpad
Power Device
Standard Charger
Battery Type
3-Cell Lithium Ion, 2200Ah, Rechargeable
Display
WSVGA LED Backlight Display
Display Size
10.1 inches
Max Resolution
1024 x 600
Display Screen Coating
CrystalBrite
Operating System
Windows XP Home
Hard Drive
160 GB SATA HDD
Speaker(s)
Built-in
Processor
Intel Atom N270 (1.60GHz)
Data Bus Speed
533MHz
Networking
10/100Vase-T Ethernet; 802.11b/g Wi-Fi Certified
Networking Compliant Standards
Wi-Fi, Ethernet, Bluetooth 2.1+EDR
Card Reader Type
Multi-in-one
Supported Flash Memory Cards
Secure Digital (SD) Card, MultiMediaCard (MMC), Memory Stick, (MS), Memory Stick PRO (MS PRO), xD-Picture Card (xD)
Graphics Controller Type
Intel Graphics Media Accelerator 950
Video Memory
Shared
Cache Memory
512 KB, L2 cache
RAM
1GB installed 2GB maximum, 533MHz DDR2 SDRAM
HP Pavilion 15.6″ HP Gaming Notebook: $649.99
The HP Pavillion dv6-1362nr is also getting a special price for Black Friday and will be sold at $649.99, $100 below the normal price! The gaming notebook is great for rendering and displaying clear and sharp images and video. Its key features include a powerful ATI Mobility Radeon HD 4650 graphic card, a fast Core 2 Duo processor and a spacious 320GB hard drive. See a picture of the notebook and the specifications chart below:
HP Pavillion dv6-1362nr specifications:
Brand
HP
Model
dv6-1362nr
Product Height
1.33 inches
Product Width
14.9 inches
Product Depth
10.15 inches
Product Weight
6.34 pounds
Connections

RJ-45 LAN (1)
HDMI (1)
VGA (1)
1/8″ headphones/speakers/line-out (2)
1/8″ microphone (1)
USB 2.0 (4)

Input Device
101-key compatible with full size keyboard with integrated numeric keypad, Touch Pad with On/Off button and dedicated vertical scroll Up/Down pad
Power Device
6-cell Li-ion
Battery Type
Lithium Ion, 2200Ah, Rechargeable
Display
LED backlight
Display Size
15.6 inches
Max Resolution
1366 x 768
Display Screen Coating
BrightView
Operating System
Windows 7 Home Premium (64-bit)
Hard Drive
320GB SATA HDD
Speaker(s)
Altec Lansing with SRS Premium Sound
Processor
Intel Core 2 Duo T6600 (2.20GHz)
Data Bus Speed
800MHz
Networking
10/100Vase-T Ethernet; 802.11b/g Wi-Fi Certified
Networking Compliant Standards
Wi-Fi, Ethernet, Bluetooth 2.1+EDR
Card Reader Type
Multi-in-one
Supported Flash Memory Cards
Secure Digital (SD) Card, MultiMediaCard (MMC), Memory Stick, (MS), Memory Stick PRO (MS PRO), xD-Picture Card (xD)
Graphics Controller Type
ATI Mobility Radeon HD 4650
Video Memory
Up to 2815MB total available graphics memory with 1024MB dedicated
Cache Memory
2MB, L2 cache
RAM
4GB installed 8GB maximum, DDR2 SDRAM
Sony Vaio 15.5″ Intel PDC: $449.99
Available 6AM PST/9AM EST on 11/27/09
This Sony Viao NW Series notebook will be selling for $449.99, discounted $200.00 for the sale, making this one of the better deals from Newegg this holiday! The VAIO VGN-NW228F/B is a speedy machine, equipped with a good amount of memory and powered byMicrosoft's innovative Windows 7. Check out the full specifications and a picture of the machine below: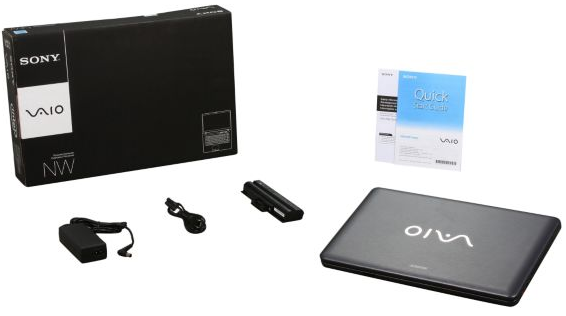 SONY VAIO NW Series VGN-NW228F/BSNC specifications:
Brand
Sony
Model
VGN-NW228F/BSNC
Product Height
1.2 inches
Product Width
14.6 inches
Product Depth
9.8 inches
Product Weight
6 pounds
Connections

RJ-45 LAN (1)
VGA (1)
1/8″ headphones/speakers/line-out (1)
1/8″ microphone (1)
USB 2.0 (2+)

Input Device
Standard Keyboard, Multi-Gesture Touchpad
Power Device
90-watt AC adapter
Battery Type
Lithium Ion
Display
WSVGA LED Backlight Display
Display Size
15.5 inches
Max Resolution
1366 x 768
Display Screen Coating
CrystalBrite
Operating System
Windows 7 Home Premium (64-bit)
Hard Drive
250 GB SATA HDD
Speaker(s)
Built-in
Processor
Intel Pentium Dual Core T4300 (2.10GHz)
Data Bus Speed
800MHz
Networking
10/100Vase-T Ethernet; 802.11b/g Wi-Fi Certified
Networking Compliant Standards
Wi-Fi, Ethernet, Bluetooth 2.1+EDR
Card Reader Type
Multi-in-one
Supported Flash Memory Cards
Secure Digital (SD) Card, MultiMediaCard (MMC), Memory Stick, (MS), Memory Stick PRO (MS PRO), xD-Picture Card (xD)
Graphics Controller Type
Intel Graphics Media Accelerator 4500M
Video Memory
Shared
Cache Memory
1MB, L2 cache
RAM
4GB installed 8GB maximum, DDR2 SDRAM
Acer Aspire One AOD250-1924 Black: $189.99
Available 6AM PST/9AM EST on 11/27/09
The mystery $189.99 netbook Josh referenced has been revealed to be the Acer Aspire One AOD250-1924, not the Acer Aspire One AOD250-1613, as previously reported. It's a high quality netbook, usually selling for $319.00. This is one of Newegg's other hot ticket items and will probably sell very shortly after the deal goes live! The Acer Aspire One is powered by the Intel Atom Processor and has a long lasting battery. It's a great companion computer for people on the go who want more functionality than their smartphone offers. You can catch a photo and the netbook's full specifications below:
Acer Aspire One AOD250-1613 specifications:
Brand
Acer
Model
AOD250-1924
Product Height
1 inches
Product Width
10.17 inches
Product Depth
8.03 inches
Product Weight
2.79 pounds
Connections

RJ-45 LAN (1)
VGA (1)
1/8″ headphones/speakers/line-out (1)
1/8″ microphone (1)
USB 2.0 (3)

Input Device
Standard Keyboard/Touchpad
Power Device
Standard Adapter
Battery Type
6-cell lithium ion
Display
WSVGA LED backlight
Display Size
10.1 inches
Max Resolution
1024 x 600
Display Screen Coating
Acer CrystalBrite Technology
Operating System
Windows XP Home
Hard Drive
160GB SATA HDD
Speaker(s)
Built-in
Processor
Intel Atom N270 (1.60GHz)
Data Bus Speed
533MHz
Networking
10/100Vase-T Ethernet; 802.11b/g Wi-Fi Certified
Networking Compliant Standards
Wi-Fi, Ethernet, Bluetooth 2.1+EDR
Card Reader Type
Multi-in-one
Supported Flash Memory Cards
Secure Digital (SD) Card, MultiMediaCard (MMC), Memory Stick, (MS), Memory Stick PRO (MS PRO), xD-Picture Card (xD)
Graphics Controller Type
Intel Graphics Media Accelerator 950
Video Memory
Shared
Cache Memory
512KB, L2 cache
RAM
1GB installed 2GB maximum, DDR2 SDRAM
Advertisement