Seeing the cow inspired Gateway box outside my front door took me back because I hadn't had much hands on time with any Gateway models for a few years.  The last Gateway machine to grace my presence was an older Gateway M350 with a Pentium 4 processor and 512 MB Ram.  It was a solid computer but found its way to eBay when the LCD backlight went out because of a slight bump.
I wasn't sure what to expect from Gateway as their reputation has suffered quite a bit in the past few years.  Would this be another dull, uninspiring copy-cat notebook, or would they deliver something fresh and invigorating?  What I have found in the EC1437u is something in between, but certainly a breath of fresh air from the Gateway folks.  Since being acquired by Acer, Gateway has been producing quality products at reasonable prices.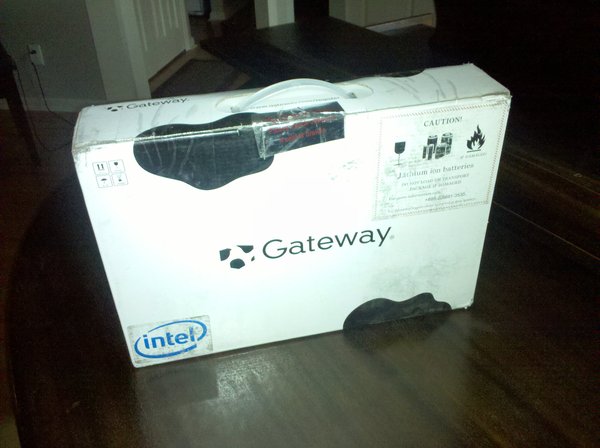 The EC1437u is a nice compromise machine.  Spend a few hundred more and you're into the premium notebook market, spend a few hundred less and you're floating among the budget friendly yet limited netbooks.  This Gateway offers a few premium features in a better than average netbook design.
Gateway EC1437u Specifications
Intel® Pentium® Processor SU4100 (1.3GHz, 2MB L2 Cache, 800MHz FSB)
Windows® 7 Home Premium 64-bit Packaging and Documentation
11.6″ HD Widescreen Ultrabrightâ"¢ LED-backlit Display
Intel® Graphics Media Accelerator 4500MHD
3072MB DDR2 667MHz Memory
6-Cell Li-Ion (5600mAh) Battery
320GB 5400RPM SATA Hard Drive AC Power Adapter
Multi-in-1 Digital Media Card Reader AC Power Cord
Intel® WiFi Link 1000 802.11a/b/g/Draft-N Wi-Fi CERTIFIEDâ"¢
3 – USB 2.0 Ports Setup Poster
1 – HDMIâ"¢ Port Getting Started Guide
Integrated Webcam Non-Microsoft® EULA
Dolby Sound Room® Audio Enhancement 3
Two Built-in Stereo Speakers COA Label for Microsoft® Installed software
Multi-Gesture Touchpad Norton Internet Securityâ"¢ 2009 Trial
Full-Size Keyboard
6-Cell Li-Ion (5600mAh) Battery; up to 7-hour battery life
3.08 pounds
Cherry Red chassis
MSRP: $549.99
The EC1437 is an attractive notebook.  I was surprised by its good looks when I pulled it from the box.  The bright, cherry finish pops and the overall form factor is light yet does not compromise on function.  The first thing I noticed about this notebook was it's sharp keyboard.  The keyboard reminds me of a MacBook although the keys are a little closer together.  Unlike a smaller netbook, there have been no compromises made with the keyboard.  Spending a lot of time typing on this machine would be comfortable and not make you wish for a larger keyboard.
The multi-gesture trackpad is sunken into the palm rest and works well, but it is too small.  There are two individual buttons below the trackpad rather than one button or a rocker.  A small LED indicator panel sits on the left palm rest and shows typical things such as Wi-Fi status, hard drive activity, and power .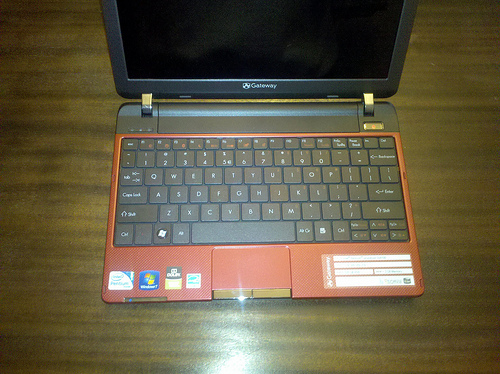 The premium features that set this Gateway notebook apart from its netbook kin are that it comes with 3 GB of DDR2 installed memory, 64 Bit Windows 7 Premium, a large 320 GB HDD, Draft-N Wireless capabilities, and larger 11.6 LCD screen.  These options along with the thin design and good battery life make the Gateway EC1437u an excellent mobile companion.
Performance of this notebook was good, but it did sometimes seem a bit overwhelmed when watching HD media.  The Windows Experience Index test resulted with a base score of 3.2.  The Windows Experience Index provides scores for the different components of a computer on a scale of 1.0 to 7.9.  The highest individual score was the hard disk drive transfer rate which earned a 5.8, and the lowest score was a tie between graphics desktop performance and graphics gaming at 3.2.  The average user won't notice any issues viewing media, but you will not want this notebook to serve as your primary gaming or multimedia machine.
Pro
Great keyboard
Screen size is excellent (currently 1366×768)
Stated 8 hour battery life
Small form-factor/design
HDMI and VGA ports
Con
Trackpad could be a tad larger
No optical drive (may impact novice users)
Glossy screen and case attract fingerprints/glares
Pricing may tempt consumers to pay more for high-end notebook
The Gateway EC1437u is a solid mobile notebook.  For the price, it delivers moderate performance in a sleek package.  The complaints I found were really rather small and plaque most notebooks.  Due to the video out options (VGA & HDMI), this would be a great notebook for mobile professionals or students that often have many presentations.  It's nice to see Gateway producing such an attractive product at a reasonable price.
Additional Photos
Follow Matthew on Twitter.
Advertisement