If there's one thing you can never have too much of, it's hard drive space. Most notebooks these days come with relatively large hard drives, but if you're stuck with an 8 GB netbook or just need easy access to cloud storage that you can access anywhere then Microsoft Live SkyDrive is just what you're looking for and thanks to a new tool, SkyDrive Explorer, you can access it right from My Computer.
If you have a free Windows Live ID then you have a SkyDrive account capable of providing 25GB of cloud storage for free. You can access this from the web in any browser, on any computer, or thanks to SkyDrive Explorer add it as an extra drive of sorts on your local computer. SkyDrive Explorer is a small program that gives you additional features and makes it easier to take advantage of the free 25 GB of storage from Microsoft Live SkyDrive.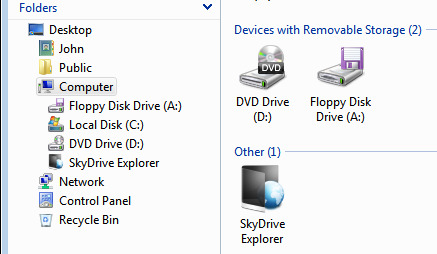 After installing SkyDrive Explorer you'll see a SkyDrive icon in "My Computer" that will let you access your files and add 25 GB of files via the same drag and drop interface you use on your computer. The only catch is that you have to be connected to the internet to access your files.
SkyDrive Explorer lets you do the following actions:
View the structure and contents of folders in SkyDrive
View files information (type, size, creation date in GMT format)
Create new root folders and subfolders
Copy files into the storage
Delete files and folders
Copy files from the storage to the computer
Copy folders and subfolders from the storage to the computer keeping their structure
Use Drag & Drop for files operations
Rename files and folders
Create links to SkyDrive folders on your computer
And these group actions not available in the web browser.
Renaming objects
Deleting group of objects
Copying folders with subfolders and files from SkyDrive
SkyDrive Explorer is a free application and is currently in Beta. When you login to SkyDrive Explorer your Windows Live account login information is communicated directly to Microsoft via https so that it is not visible to others. SkyDrive Explorer works with Windows XP, Windows Vista, Windows Server 2003 and 2008, and Windows 7 in both 32 bit and 64 bit varieties.
If you need local and cloud access to files then I suggest you check out DropBox which gives you online access from any web browser and a local copy of your files on any computer with a DropBox client for offline access.
Via DownloadSquad
Advertisement