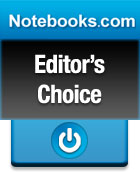 The Alienware M17x is an impressive piece of machinery that will please just about any gamer. It has the performance to match its bold, distinctive design.
The Alienware M17x is a gaming notebook that starts at $1,799 at Dell.com. This notebook is geared at serious gamers and is probably overkill for those who are just getting started with first-person shooters. But if you're looking for an incredible gaming experience in a portable package the M17x may be for you.
Its combination of style and muscle earn the M17x a Notebooks.com Editor's Choice Award.
As you can see, the Alienware M17x has a very aggressive design. The exterior is made of anodized aluminum, which makes the M17x feel very sturdy. It's available in black silver and red finishes.
It tips the scales at almost 13 pounds, which means it'll probably stay planted on your desk most of the time.
I played Call of Duty: World at War, Batman Arkham Asylum, Left 4 Dead and Far Cry 2 on an M17x that NVIDIA sent over for review. The gaming experience was excellent and friends were wowed when I showed them the beast.
Alienware M17x Specs
Alienware, a division of Dell, proclaims the fully loaded version of the M17x as "The Most Powerful 17-inch Laptop in the Universe."
The M17x can be maxed out with dual graphics cards with a combined 2GB of combined memory, an Intel Core 2 Extreme Quad-Core processor, 8GB of RAM, a Blu-ray burner and dual 256GB solid state drives. These hefty specs can push the price of the M17x north of $5,000, putting it out of reach for most gamers.
The standard 17″ display has a resolution of 1440×900, but for $150 you can upgrade to a 1920×1200 panel.
The M17x NVIDIA sent over for review is priced at $2,624, making it much more approachable for gaming enthusiasts. At this price, the M17x comes with dual NVIDIA GeForce GTX 280M GPUs with 2GB of memory, 4GB of RAM, a 500GB 7200RPM hard drive, a 2.4Ghz Intel Core 2 Duo processor and a slot-loading DVD burner.
The system I received came with 64-bit Vista Home Premium. This notebook now ships with Windows 7.
The M17x has plenty of ports to connect all of your peripherals. On the left side you'll find a Kensington lock slot, VGA connector, DisplayPort, HDMI port, Ethernet adapter, FireWire port, a pair of USB ports and a USB/eSATA combo port. The slot-loading optical drive is located on the right side of the M17x, along with a memory card reader, 54mm ExpressCard slot, two more USB ports, audio-in and surround sound audio out ports.
A webcam and dual-array microphones are located at the top of the display.
AlienFX
AlienFX is a lighting system that lets change the appearance of your M17x on the fly.
There are LEDs that illuminate the speaker grills, trackpad, touch controls, keyboard and Alienheads on the front and back of the machine. You can set each of the zones to one of 20 colors. This is kind of a gimmick, but I found it refreshing to switch up the notebook's color schemes. I adjusted the ambient lighting to match the games I played. I made all of the lights red when I played Left 4 Dead, which added to the creepiness of the game. I switched over to blue when I played Batman. You can get real creative and save color combos as profiles.
Alienware M17x Graphics Performance
Modern video games rely on Graphic Processing Units (GPU) to render complex scenes on the fly. When configuring a gaming notebook you should put a priority on ordering a high-end GPU, or dual GPUs if you can afford them.
The base configuration of the Alienware M17x comes with comes with a single NVIDIA GeForce GTX 260M GPU with 1GB of memory. This GPU, or the optional ATI Mobility Radeon Mobility HD 4870 (a $300 add-on) would make a lot of gamers smile. But if you want the ultimate gaming experience you'll want to order the M17x with dual graphics cards. The unit I used was loaded with dual GeForce GTX 280M GPUs, which is a $600 option. The system delivered awesome graphics performance even though it was paired with the most affordable processor offered with the M17x.
I played Left 4 Dead at full resolution (1920×1200) with just about all of the settings turned up to the max. I kept anti-aliasing set to 4x. As you can see in this video, game play is great. My wife literally screamed when I showed her the game when the horde was attacking.
Batman Akrham Asylum is another game that looks awesome on the M17x. Game play was very smooth and realistic, in part thanks to Physx support. Here's a quick demo video that shows how the game looks on the M17x running at 1920×1200 with all of the effects turned on, detail level set to very high and Physx set to high.
This YouTube video shows exactly how different this game looks with and without Physx enabled.
You can turn off the GTX 280M GPUs and switch over to the built-in NVIDIA 9400M graphics to improve battery life when the M17x is unplugged. If you start the M17x up while unplugged it will automatically switch off the GPUs.
Conclusion
There's no question that the Alienware M17x delivers a great gaming experience, but this notebook isn't for everyone. If you're concerned about battery life or mobility you should avoid the M17x. It's too heavy to carry around and it's difficult for some people to even move from room to room. Do not buy this notebook with any delusions that you're strong enough to schlep it around campus. Plan on buying a netbook or lightweight notebook to use outside of your home in addition to your M17x.
The whole point of the M17x is to deliver an excellent gaming and entertainment experience. Some people might be tempted to buy an entry level M17x for $1,799, but it's a far cry from being 'all powerful.' At the minimum, you should order the high-resolution display and dual Nvidia GeForce GTX 260M GPUs.
I personally like the aggressive appearance and lighting effects, but it'll be tough for others to take you seriously if you ever have to bring your M17x to a meeting or presentation.
You can't go wrong with the Alienware M17x if you're a hardcore gamer and have enough room in your budget to go for at least some of the high-end options. Once you start gaming on the Alienware M17x it's hard to stop.
Advertisement