Dell has the new Inspiron 11z 11.6″ ultraportable laptop for just $434 (order here and just add the $35 6-cell battery option). It's much faster on the CPU and graphics than a Netbook but it's priced like a Netbook. This is an Intel Celeron 743 45nm Core microarchitecture single core processor running at 1.3 GHz with a mere 10W TDP so the performance is better than the 1.6 GHz Atom processors used in Netbooks. The graphics chipset is the GS45 which absolutely annihilates the aging G945 chipset used in most Netbooks. The 11Z also has an HDMI out.
The only down side is all the trial and crapware that Dell ship with this thing, but that can be wiped out with a fresh OS install and you can use the OEM license sticker on the bottom of the laptop. If Vista refuses to activate, call into Microsoft activation and they'll fix it for you quickly.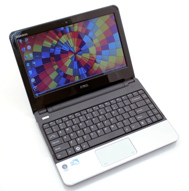 For a total price of $434, it is an unbelievably low price for a real ultraportable laptop that performs like the $2000 ultraportables of 2006. I never expected these CULV (stands for consumer ultra low voltage) notebooks to sell at this price point since that is overlapping with netbooks, but I'm not complaining.
The only downside to the 11z appears to be the weak trackpad and relatively slow single-core low frequency CPU.  But it's still faster than the Atom processor and at least it supports the SSE4.1 instruction set.  Some of the power saving features like speed step is disabled, but the system still has a very impressive battery life.  Dell does offer a $75 option to upgrade to the fully featured SU4100 processor which has two CPU cores and it also has speed step enabled to improve battery life.  Then if we add the $25 802.11n and $20 internal Bluetooth upgrade along with Windows Vista Premium with Windows 7 upgrade for $30 and the total price comes to $584 which is still a great deal considering the specifications.
Advertisement