If you are looking for incredible performance in a portable package, listen up: Eurocom has recently announced that it will be bringing two new notebooks to market in October, which will use the Calpella platform, featuring the Clarksfield mobile quad-core processors.
If you haven't been paying close attention to Intel; Intel i7 is the successor to Intel's popular Core 2 family. Without getting too technical i7 uses some new architecture to achieve faster speed than previous versions.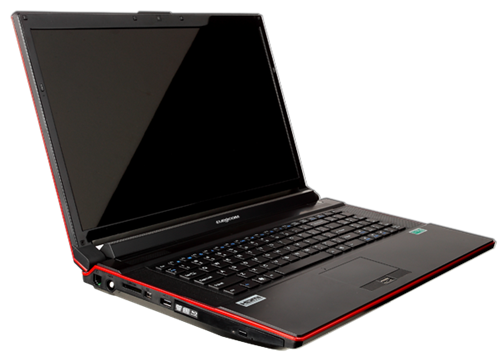 The two new notebooks being introduced the 15.6" Cougar and the 17.3" Cheetah will support the following CPUs:
Intel Core i7-920XE Extreme Processor: 2.0GHz
Intel Core i7-820QM Processor: 1.73GHz
Intel Core i7 i7-720QM Processor:  1.60GHz
Be sure to realize that these aren't your netbook's CPUs… no, the i7 platform will have some seriously extreme performance coupled with these quad-core CPUs.
The i7 platform that these notebooks are taking advantage of as has support for very fast DDR3 RAM (up to 1600MHz). The Cougar or Cheetah and be optionally equipped with 2/4/8/16GB of RAM. Think that's a lot of RAM? Check out the storage space: Eurocom will be equipping these computers with up to 1.5TB (terabytes) of HDD storage (by squeezing 3 500GB 7200RPM HDDs into the notebooks).
They also manage to cram all of the other necessities for high performance computing, including: up to a full HD 1920×1080 screen and a wide choice of high performance graphics cards. Users can choose between the NVIDIA GeForce GTX 260M, GTX 280M or ATi Mobility Radeon HD 4870XT with 1GB of GDDR3 for high-performance gaming, and NVIDIA Quadro FX 3700M with 1GB GDDR3 for those looking for high-performance workstation computing. Aside from the usual ports and features, you can optionally have 3G connectivity in the form of HSDPA or WiMAX for on-the-go cellular internet access.
Make no mistake; these notebooks are designed for power and speed. They are quite large and heavy, and are designed to be as powerful as a high-end desktop, but more portable. Don't expect to be using these for hours on end running on battery life, and while prices have not yet been announced, don't expect the Cougar or Cheetah to come cheap!
Advertisement