I'm often asked what the "best notebook" is and I never have a straight answer. The reason I have a tough time answering that question is because it all depends on what you plan on using the notebook for and what your budget is.
For some users, a standard notebook isn't even an option and a notebook that can stand up to cold and wet conditions is necessary. The Panasonic ToughBook CF19 is one such notebook and the folks at ArborMetrics Solution use it to keep in contact with headquarters while they help keep trees away from power lines amongst other tasks.
As you can see in this picture, the ToughBook CF19 can operate in pretty much any conditions.
Here's the ToughBook CF19/AborMetrics  Case Study, republished with permission from Panasonic:
Enhancing the Effectiveness of Vegetation Management in the Utilities Sector
ArborMetrics Solutions uses reliable, wireless Panasonic Toughbook notebooks to improve planning, scheduling and reporting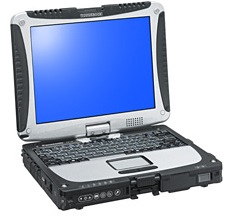 ArborMetrics Solutions, a leading vegetation management company in the United States, provides contract personnel to support transmission and distribution (T&D) programs for electric and gas utilities. The company specializes in streamlining programs and helping its utility clients to meet FERC (Federal Energy Regulatory Commission) requirements. In addition, ArborMetrics works with municipalities and other agencies that wish to maximize the efficiency and effectiveness of their vegetation management programs. Their work includes the development, planning and implementation of various tasks, such as vegetation inventories and tree removal programs, critical to keeping power supplies to residential areas and businesses up and running.
With its employees constantly on-the-go, using pen and paper to note job schedules and provide status updates proved to be inefficient and time-consuming, delaying customer response and reporting. In an effort to improve the efficiency of its field workers, ArborMetrics needed a durable mobile computing solution able to withstand extreme weather conditions, such as deep snow in the mountains or heavy rains. ArborMetrics also sought to provide their mobile workforce with instant connectivity to headquarters to increase employee productivity and improve reporting time.
After looking at a broad spectrum of mobile computers, ArborMetrics chose the Panasonic Toughbook 19 convertible tablet because of its compact size, rugged exterior, unmatched reliability, superior embedded 3G wireless and GPS capabilities. Combined with the company's data collection and reporting software, which captures vegetation inventories, creates work plans, tracks progress, conducts audits for quality assurance and generates real-time reports for customers, the Toughbook 19 has improved the effectiveness and efficiency of the overall vegetation management program for ArborMetrics and its clients.
Because of the notebook's small form factor, it is easy to transport; it fits between seats in a vehicle or in field employees' backpacks. In addition, it delivers the perfect mix of durability, reliability and wireless connectivity, allowing the team to respond to their customers in a timely manner with the most up-to-date job status information available.
Using the built-in GPS system on their Toughbook notebooks, ArborMetrics' employees now have access to easy routing between the jobs. This saves time and fuel (by reducing wrong turns in remote areas), and allows the company to complete more jobs during the day.
Since deploying the Toughbook 19 tablets with ArborMetrics software, the company's employees can provide real-time information related to vegetation type, density, GPS location, access routes and detailed work orders. The reporting process between remote workers and headquarters is now automated and accurate, helping the company keep its competitive edge by deploying innovative technology in the field. Finally, because of the real-world tests to meet various environmental conditions faced in the utility sector, the fully-rugged Toughbook 19 provides the ArborMetrics team with mission-critical mobile reliability, virtually eliminating down-time.
Advertisement