Late last night I blogged about HP and Live.com's 40% off sale, which is one of the best Black Friday deals I'd found this year. It was so good in fact that I decided to just stay away from the crowds completely and buy a few items from the comfort of my home office. But after eight hours of trying to redeem this deal, Microsoft's Live.com Cash Back service still isn't working and there are a ton of disappointed Black Friday shoppers.
The 40% cash back sale was supposed to kick off at 7am PT and end at 7pm PT. With the majority of Black Friday shopping hours already past, many Notebooks.com readers have indicated they've missed out on other Black Friday deals after spending hours hitting reload in their web browsers and getting various errors.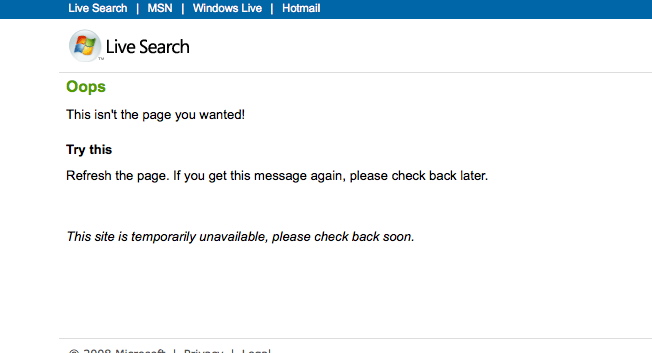 I posted about this problem on my Facebook status message and one of HP's chief technology officers immediately got back to me and said they'd look into the issue. A few minutes later I received a cordial email from HP's marketing department who alerted me to the fact that Microsoft's Cash Back service wasn't working for any of Microsoft's e-tailer partners. Consumers (including myself) couldn't take advantage of other retailers' cash back offers.
A call and email to Microsoft's rapid response PR team went unanswered.
I've personally used three notebooks running OSX, Vista and XP to repeatedly try and get this program to work. I've used Safari, Firefox and Internet Explorer, and the Microsoft browser seems to get me the closest to the deal.
Notebooks.com readers have been very opinionated about the issue and are sharing their thoughts at the original post.
Please let us know if you're able to get the deal HP/Mcirosoft Live Cashback deal to work.
Advertisement