We took a look at the Logitech's redesigned QuickCam for Notebooks and were impressed with its simplicity and low price point. This is a very basic webcam that clips onto the top of a notebook's screen and just works.
The QuickCam for Notebooks can record video at up to (640×480 pixels at 30 fames per second), with a quality that's just fine for home users. If you need higher quality or are a power user, you should take a look at a more expensive model.
This webcam and its software are easy to use and is cheap enough to ship off to friends and relatives that you want to chat with by video, but who aren't tech savvy. The list price is $39.99, but some retailers are already selling it for less.
Designed to work with Microsoft Vista, the QuickCam is compatible with popular instant messaging apps like Skype, AIM and Yahoo! There are several filters built-in if you want to have fun and change how you look. You can fine-tune video and audio performance. The built in software is intuitive and allows users to adjust microphone and camera settings to get the best picture and to decrease echo and background noise.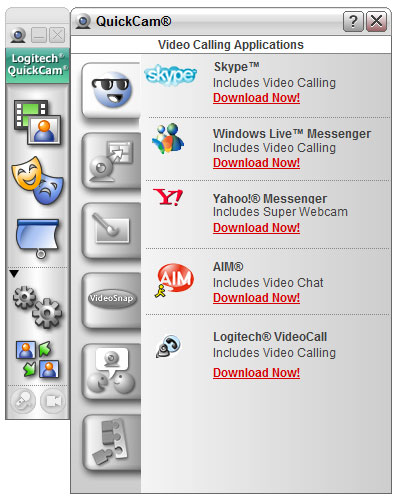 We tested out the QuickCam for Notebooks (see video above) and the results were reasonable, but not stellar. There's a manual focusing ring that you'll need to twist to fine-tune your image. When twisting it, or using the snapshot button it's easy to dislodge the QuckCam for the top the notebook's screen, especially if you have an ultra-thin screen
The QuickCam for Notebooks will be available online and at retail this month.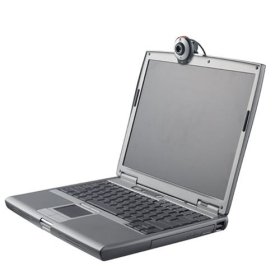 VGA (640×480, 30fps), 1.3 megapixel still photos (w/software interpolation)
Requires Windows 2000, XP or Vista
Requires USB 2.0
Activity Light
Snapshot Button
Built-in Microphone
Pros: Easy to use, Affordable, Fun Filters, 2-year warrantyCons: Plastic Lens, Clip can come loose on thin notebook screens.
Logitech QuickCam for Notebooks-$33.99 at Amazon.com
Logitech QuickCam for Notebooks Product Page
Advertisement