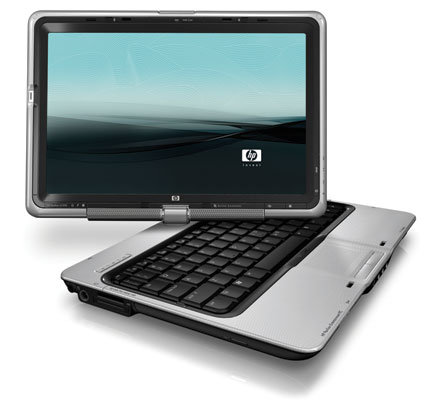 The HP Pavilion tx1000z is now available for order. It's HP's first consumer tablet and anyone considering a dv2000 series should also take a look at the tx1000 series.
The tx1000z is the first consumer notebook to feature a touchscreen display(optional), which means you can easily operate it in tablet mode without a stylus. It packs in a lot of business tablet features without sacrificing the comforts of a consumer notebook. It still has the glossy imprint finish, QuickPlay media buttons and Altec Lansing speakers that rotate with the display.
We first saw the HP Pavilion tx1000z late last year and were impressed with the design and amount of features packed into it. Unlike many tablet PCs, the tx1000z comes with a built-in DVD burner, fingerprint reader, webcam and discrete graphics card.
The tx1000z comes standard with Vista Home Premium, Vista Business or Vista Ultimate are optional. A built in high speed WWAN card is onee feature that we saw on a demo unit that's not currently available on the HP Shopping site.
The tx1000z starts at $1,299, and specs out around $2,222.
HP Pavilion tx1000z Notebook Product Page
Notebooks.com- Hands on Photos and Specs of tx1000


Save $150 instantly on the HP Pavilion tx1000z Notebook PC.

Advertisement