The Samsung Series 7 CHRONOS notebook marries a 17-inch monitor and the latest 3rd generation Intel Core i7 processor and the NVIDIA GeForce GT 650M GPU for a desktop replacement notebook that doesn't break your back, though it might put a pain in your wallet.
The new Samsung Series 7 CHRONOS notebook has a 17.3 inch 1080P HD display with Samsung SuperBright tech that Samsung claims delivers 36% to 50% brighter screens than conventional notebooks.
The quad core Intel 3rd generation Core i7 processor with TurboBoost 2.0.1 for more power when applications demand it, and Samsung Fast Start will speed up the sleep to go speeds. It doesn't hurt that the notebook includes an 8GB flash memory on the motherboard to speed up operations without limiting file storage like a SSD only system.
Samsung claims that the battery will last up to 8 hours, which most likely needs discounted for real world use. Samsung says that the battery will retain 80% of its capacity for 1,500 charges, or about 3 years, which many consumer notebooks cannot claim.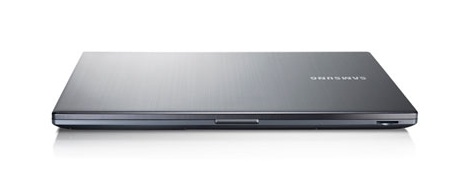 There is a premium placed on entertainment from the full HD display to the graphics and even the speakers. The Series 7 Chronos has JBL speakers and a subwoofer for above average sound. The new NVIDIA GeForce GT 650M GPU allows users to play games, edit movies and perform lots of multitasking. The notebook also features Wireless Display, with the ability to mirror content to an HDTV wirelessly, with a $99 adapter.
The Samsung Series 7 CHRONOS is retails for $1,499 and is available at most Best Buy locations and online for $1,399.
Samsung Series 7 CHRONOS Gallery
Samsung Series 7 CHRONOS Specs
| | |
| --- | --- |
| Processor | 3rd Generation Intel® Core™ i7 processor |
| Operating System | Genuine Windows® 7 Home Premium |
| Memory (,ax) | 8GB |
| Storage (max) | 1TB |
| Screen | 17.3-inches |
| Resolution | 1920×1080 |
| Graphics | NVIDIA® GeForce® GT 650M 2GB |
| Speakers | JBL® 3 Speakers with Subwoofer |
| Integrated Camera | 1.3 MP |
| Battery | Up to 8 hours** |
| Wireless | A/B/G/N |
| Weight | 6.56 pounds |
| MSRP | $1499.99 |
Advertisement