The MacUpdate Bundle puts a number of programs together into a bundled software collection for a deeply discounted price. The current MacUpdate Bundle includes some really great tools, utilities, and a game for only $49.99. Get it soon though because it expires on March 28.
In this current bundle you get $378 worth of software. If you don't mind letting people know about the bundle on Facebook or Twitter, then you will get another program as well.
Here's what you get in the bundle with the retail price in parenthesis after the description.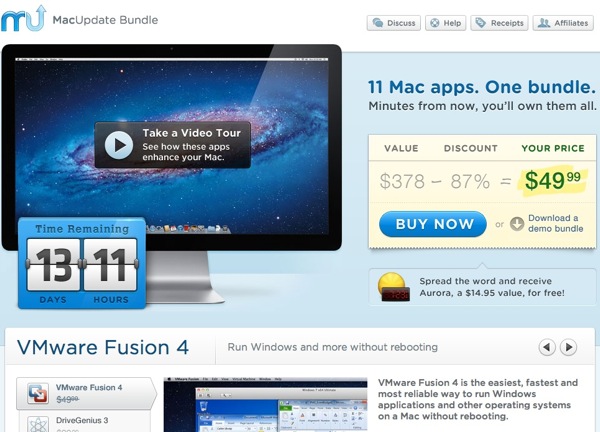 VMware Fusion 4 – a virtualization tool that lets you run Windows or Linux on a Mac. You can also install a beta version of OS X for testing and learning. ($49.99)
Drive Genius 3 – a disk utility that optimizes your drive by defraying, finding duplicate files, fixing corruption and checking the health of the drive. ($99.99)
PDFpen 5 – a great PDF markup tool that lets you sign documents, take notes, or fill in forms. ($59.99)
ForkLift 2.5 – A Finder replacement that handles things like renaming a bunch of files at once, remote file management, and zipping up collections of files. ($29.99)
Typinator 5 – Helps you get more done by automatically putting often used text strings into places like online forms or documents by replacing the shortcuts that you type with the full text, like KAP for Kevin A. Purcell. ($39.99)
Desktop Shelves 2 – Puts all your desktop content onto virtual shelves for easier viewing. Organize things like pictures, documents, and Internet shortcuts on separate shelves and then mouse over the self to see all of them fanned out. ($14.99)
Snapheal – A simple photo retouching tool. ($14.99)
Boom (Home Pack) – Boosts the volume of your Mac so you can hear hard to hear audio or video files. ($10.99)
Phone to Mac – Moves files from your iPhone, iPod or iPad to your Mac using a drag-and-drop file explorer that looks like iTunes. ($24.99)
Star Wars: The Force Unleashed – A fun Star Wars genre game. ($29.99)
Worms Special Edition – A funny and fun strategy game. ($9.99)
The bonus app is Aurora and you get this $4.95 clock app for Tweeting about the bundle or liking it on Facebook.
If all you wanted was VMware and one of the tools like PDFpen, then it make the bundle worth it. You could get the light version of Drive Genius in the Mac App Store but it costs $59.99. PDFpen is also in the app store but the cheaper version costs $59.99 and the expensive one costs $99.99. Other apps in the Mac App Store include DesktopShelves, Snapheal, Boom, and Worms. I'd recommend getting it, especially if you need or just want one of the tools.
Advertisement